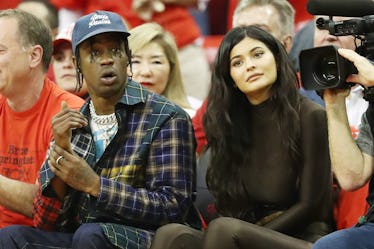 This Huge Thing Kylie Jenner Did To Resolve A Fight With Travis Scott Will Blow Your Mind
Ronald Martinez/Getty Images Entertainment/Getty Images
Kylie Jenner is serious about her relationship with Travis Scott. She's so serious that she'll go to just about any lengths to make sure her relationship with him is healthy, secure, and stable. And for a 20-year-old, that's incredibly admirable. Recently, Jenner and Scott sat down for an interview with GQ magazine in which the couple revealed lots of personal details, including the fact that they fight as hard as they love. In fact, Kylie Jenner flew to Houston to resolve a fight with Travis Scott, and the details prove that she's 100 percent committed to this relationship.
In the interview with GQ, Jenner talked about how she approaches her relationship and how, during a bitter argument, she resigned herself to set things right no matter the cost.
Of the fight, Jenner said the following:
It wasn't even about anything really specific. I was just overwhelmed. I just flew to Houston to see him for a few hours … just because we're a family now.
When Jenner arrived in Houston, Scott reportedly had a custom-made necklace ready for her. The necklace had Stormi's name on it. Such a sweet gesture!
As she relayed the story of their fight and her subsequent trip to Houston, Jenner also talked about the main reason she and Scott argue with one another:
When we fight, it's usually just because we've been away from each other for too long and we didn't see each other for like two weeks. And we have Stormi now, and I can't travel with her. She's too young. So it's harder to see each other, but I was like, I just need to go and fix this and go back.
Jenner and Scott, who are on the cover of the August issue of GQ, gave fans an in-depth look at their life together. From detailing the birth of their daughter Stormi Webster to explaining how they met, the young couple didn't hold back.
Jenner talked at length about the start of their relationship, admitting that it was kind of a whirlwind experience:
Coachella was one of the stops on his tour. So he said, 'I'm going back on tour — what do we want to do about this?' Because we obviously liked each other. And I was like, 'I guess I'm going with you.'
When speaking of daughter Stormi's birth, Scott admitted that he shed a few tears in the process.
"As soon as I heard her crying," Scott said about what kicked off the waterworks.
He also confirmed that he was in the room during the birth.
"Hell yeah! It was crazy," he said. "I was there through the hell… the epidural and s**t. Crazy."
Clearly, Stormi's birth was transformative for both Jenner and Scott, and that's such a wonderful thing to see. The two are quite obviously in love.
They even sat down for a really sweet Q&A session for the cameras. During the session, which was humorously called The Kylie Quiz, Jenner tested Scott's knowledge of her. Of the 23 questions Jenner asked him, Scott got 20 right. Not bad! He did flub a few times, but it was all good.
The two showed a lot of love for each other throughout the whole thing. Looks like Stormi's got two very loving parents who have a lot of fun together.