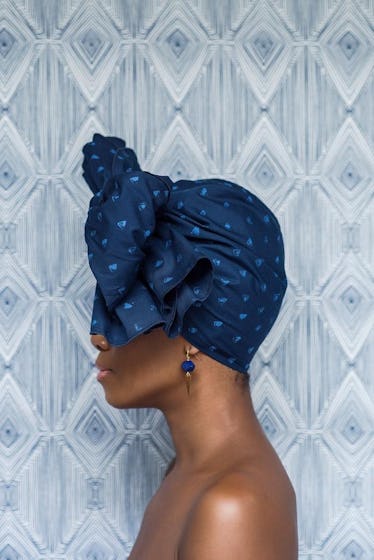 10 Black-Owned Clothing Brands To Support In Honor Of Kwanzaa Crawl
What is Kwanzaa? Growing up, I always imagined it as a sort of black Christmas and I always felt cheated by the fact that my family didn't celebrate it. I felt like I was the only black person who didn't know what Kwanzaa meant, but as comedian and actress Kerry Coddett highlights in her web series "Kwanzaa Actually," a lot of people don't know much about the holiday. Kwanzaa is celebrated around the same time as Christmas, taking place for a week between Dec. 26 and Jan. 1, and this year, Kwanza Crawl returns in Brooklyn and Harlem. Kwanzaa Crawl is a pub crawl that seeks to celebrate black-owned bars, à la the popular Santa Con festivities. Attendees are encouraged to wear clothing that celebrates their culture, history, and makes them feel unapologetically black. This year, Coddett is hosting the second annual Kwanzaa crawl on Dec. 26, 2017, in New York City.
The actual Kwanzaa tradition itself celebrates a week of festivities, created in 1966 by Maulana Karenga, to honor African tradition within black American culture. The name Kwanzaa is taken from the Swahili phrase, matunda ya kwanza, meaning "first fruits of the harvest" or "first fruits." The use of Swahili, an East African language, when the Atlantic slave trade brought African people to America from West Africa, was chosen to symbolize Pan-Africanism, a concept that was increasingly popular during the 1960s.
Each day of Kwanzaa is dedicated to one of the following seven principles of Kwanzaa: Umoja (unity), Kujichagulia (self-determination), Ujima (collective work and responsibility), Ujamaa (cooperative economics), Nia (purpose), Kuumba (creativity), and Imani (faith). Celebrations can vary, with many communities holding their own events full of song, poetry, dance, and etc.
So, if you're in the New York City area and thinking of going to Kwanzaa Crawl this year, here are 10 black-owned companies whose work you should check out to prep for the day. If you can't make it, consider supporting these brands anyway in honor of what the crawl stands for: supporting black-owned businesses in any capacity.
1. School of Thought Collection
School of Thought Collection, $35-40, Philadelphia Print Works
Founded in 2010 by Maryam Pugh and Ruth Perez, Philadelphia Print Works is known for its commitment to social justice by creating digital and physical space for creative collaboration around activism. Embodying the principle of Kuumba, it takes care to pay homage to the works of James Baldwin, Audre Lorde, and other greats through its "School of Thought" collection. Philadelphia Print Works is a brand you should definitely support!
2. Vintage Happiness Dress
Vintage Happiness Dress, $98, Nakimuli
Founded by Tennille McMillan, Nakimuli provides clothing for women of all shapes and sizes that's affordable and fashion-forward. Consider popping out in this gorgeous Vintage Happiness Dress. With bold colors such as purple, red, green, and its flower print, this piece will definitely be an eye-catcher during your Kwanzaa celebrations.
3. Hand-Printed Headwraps
Hand printed Headwraps, $28, The Wrap Life
A good outfit is all about the accessories. Founded by Nnnenna Stella, The Wrap Life is dedicated to providing black people with a wide variety of scarves, and includes tutorials on how to wrap your hair if you're new to all of this. If you really want a statement piece you can rock throughout the year, check out its handprinted collection, where no two scarves are the same.
4. A Statement Top
Nia Top, $50, Simply Cecily
Here, you can find a contemporary clothing line aimed at fusing traditional West African style with the flair of American design. Pair this Nia top with some jeans and you have a quick, practical, and stylish look!
5. A Patterned Shirt
Jasmine Shirt, $80, Christian Omeshun
Dedicated to designing clothes "for the ambitious, curvy woman who stops the show with her charismatic sense of style," this is a brand you should check out! The pattern of this Jasmine top, with its ruffled sleeves, makes it a cute shirt that can easily be paired with plain jeans for a quieter style or a loud skirt that really helps it pop. Christian Omeshun also offers customization on all outfits.
6. A Graphic Print Tank
Baby Hair & Afro Puffs, $30, Malaika Apparel
Founded by Rita Bunatal and embodying kujichagulia, Malaika Apparel is all about defying contemporary norms while celebrating black people. It is "a call for agency and the empowerment of the Black/African diaspora." This top is a great way to embrace your own baby hair and afro puffs.
7. A Cute Tee
Tommie Stripe Tee, $90, William Okpo
This red, white, and midnight blue graphic stripes tee is a nod to '70s inspired fashion that makes for a unique, comfortable look. William Okpo is a womenswear collection designed by sisters Darlene and Lizzy Okpo, offering an aesthetic that you won't be able to find anywhere else.
8. Regal Custom Tee
Regal Custom Tee, $45, Jag & Co
These designs by E. Jaguar Bekford (Jag) offer pieces "for men, women, the fashion forward, and the fashion novice." Jag & Co is especially unique in its green approach — part of its corporate social responsibility — in which green products are made by designing, redesigning, using, and reusing clothing components such as metal parts, buttons, and zippers.
9. A T-Shirt Dress
Royal T-Shirt Dress, $50, Yatir Clothing
There is nothing better than the vicious comeback velvet has made within the past year. This T-shirt dress is definitely a comfortable piece that'll have you looking extraordinary. Yatir Clothing specializes in clothing for plus-size women, from tees to dresses and custom pieces, so make sure to check it out.
10. A Colorful Button-Down
Mola Colors Button Down, $55, Stuzo Clothing
This 100 percent cotton button down comes from Stuzo Clothing, a fashion brand started by Michelli and Uzo Ejikeme. Stuzo Clothing is a genderless company with a mission to create space for all in fashion. Definitely check out this dope brand.