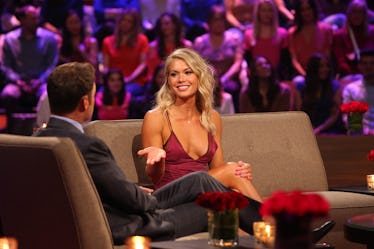 Krystal's Mic Caught Her Talking About 'Bachelor' Arie Off-Air & OMG
She's back, and with her voice in a deeper octave! On the "Women Tell All" special of Season 22 of The Bachelor, Krystal returned to Bachelor Nation prepared to confront her haters. Known for her glitter truth bombs and drawn-out greetings, Krystal was bound to receive her time on that "Tell All" stage the minute she first squeaked out a "hiiii" on the show. Unsurprisingly, Krystal's "Women Tell All" hot seat brought all the drama, starting with the previously unaired comments she made about Arie in Fort Lauderdale.
After host Chris Harrison welcomed the "villain" onto the stage, he played the reel of Krystal's Bachelor highlights and, as viewers, we all thought this was just footage of the same old moments we obsessed over a few weeks ago. In a surprise move, the reel included unaired footage of Krystal criticizing Arie following the bowling group date in Florida. While those controversial comments made on the post-date bus ride remain a mystery to us, we finally got a snippet of how intense that moment may have been.
On that particular group date, Arie originally said that only the winning bowling team would attend the night portion of the date. Following the competition, he changed his mind. Arriving in the women's hotel room, Krystal ducked into the bathroom and initially appeared to be taking off her mic.
However, in this previously unaired footage, her mic caught some explosive comments. Krystal said about Arie, ""I have an amazing life...that's all on hold for what? Some needle d*ck? I'm sorry, I date men, not little fancypants."
While the term "needle d*ck" was actually bleeped on the show, other sources have confirmed that this...interesting choice of words was what Krystal used. ABC executive Robert Mills shared the tidbit with fans via Twitter, while Krystal spoke to Bachelor Winter Games winner Ashley Iaconetti about it for Access Hollywood.
In her talk with Ashley, Krystal claimed that she had an "intuitive" feeling when deciding to describe Arie this way. Well, you do you, girl.
As for the rest of her discussion in the hot seat, Krystal took plenty of flack from the other women about her aggressive criticism of Arie. First addressing this particular comment, the women wanted an explanation for such an extreme jump in emotions from Krystal. It's not a true "Women Tell All" until everyone is angrily talking over each other, and this was the case for the confrontation.
When she could get a word in, Krystal told the women, "I was really upset and hurt, and don't judge me for being hurt and upset. I needed a moment to chill down and cool out."
Obviously, these comments went way beyond just needing time to chill. The other women's anger about her blowout soon segued into annoyance with Krystal's general behavior throughout filming. Snatching up that unprecedented hometown date with Arie made her overconfident in their relationship, and it led to her frequently calling the other women desperate in their interactions with Arie.
Krystal constantly saying that she was above the others particularly affected Caroline, who called out Krystal for insulting the women the way she did. Although Krystal seemed to cite the women's mockery of her as justice for her behavior, Caroline played the women's woman card, saying that she respected all of the girls in the group and that they didn't deserve that treatment.
Although past "Tell All" confrontations of the "evil" housemate often end in mutual apologies, this didn't really happen with Krystal. Instead, her hot seat interview died down when the focus shifted to her Minnie Mouse voice, or lack thereof. She still stuck to the explanation that she was sick during filming, and the women piped in, "For like a month and a half?"
Chris then nudged her to pull out the voice, and although she insisted she didn't know how to do it, Krystal basically booked her ticket to Paradise when she gave him a single "hiii." We'll see you this summer, Krystal!
The Bachelor returns on Monday, Feb. 26 at 8 p.m. ET on ABC.