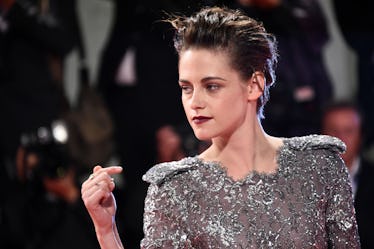 I Was Not Prepared For This Photo Of Kristen Stewart As Princess Diana
Mondadori Portfolio/Mondadori Portfolio/Getty Images
Princess Diana is one of the most famous 20th-century icons. She was plucked from relative obscurity by the Palace to marry the heir to the British throne, Prince Charles, at only 19 years old. She did her duty by giving birth to "an heir and a spare" (Princes William and Harry, respectively), but by the 1990s, she decided she wanted off the royal conveyor belt. What ensued was the biggest divorce scandal since Henry VIII ran the table with six wives. Now, Kristen Stewart will play Princess Diana in a movie called Spencer, which focuses on the critical week when she made that fateful choice to divorce Charles.
Stewart's casting is part of a package that includes a script by Steven Knight, best known for his work on scripts for The Girl in the Spider's Web and Dirty Pretty Things. (He also co-created the original UK version of Who Wants To Be A Millionaire?) Chilean filmmaker Pablo Larraín, who directed the Academy Award-nominated biopic Jackie, starring Natalie Portman, is directing.
When news of the film broke in June 2020, Larraín sang Stewart's praises in talking about why she was cast to play Princess Diana. He said to Deadline:
Kristen can be many things, and she can be very mysterious and very fragile an ultimately very strong as well, which is what we need ... I've seen movies from Kristen that are so diverse it's incredible, showing different layers and her diversity and strength as an actress ... As a filmmaker, when you have someone who can hold such a weight, dramatic and narrative weight just with her eyes, then you have the strong lead who can deliver what we are looking for.
In a statement shared by Neon, Stewart spoke about her excitement in taking on the role. "Spencer is a dive inside an emotional imagining of who Diana was at a pivotal turning point in her life," Stewart said. "It is a physical assertion of the sum of her parts, which starts with her given name: Spencer. It is a harrowing effort for her to return to herself, as Diana strives to hold onto what the name Spencer means to her."
Filming for the project, which began in early 2021, is taking place in Germany and the UK, according to Variety. On Jan. 27, Spencer's production company Neon released a first-look photo of Stewart in costume as Diana. The resemblance is actually uncanny.
According to Variety, Spencer is expected to come out in fall 2021. The movie will only cover the period around Diana's choice to divorce Charles. It's "very contained, set over a few days in Sandringham," Larraín explained to Deadline. The story will not extend into Diana's post-royal life or her tragic death.
This article was originally published on