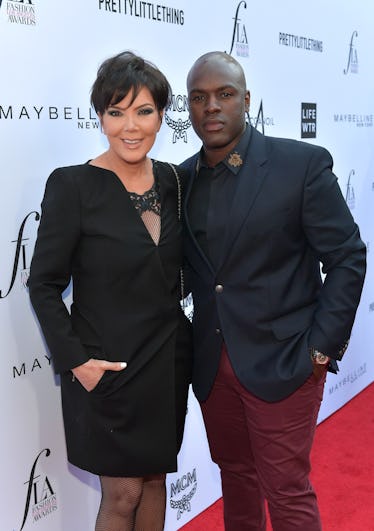 Everything Kris Jenner Has Said About Corey Gamble Proves They're Perfect For Each Other
Neilson Barnard/Getty Images Entertainment/Getty Images
Kris Jenner and her boyfriend, Corey Gamble, have been going strong for quite some time. While they've had their fair share of ups and downs over the years, there's no denying their chemistry, nor their total commitment to one another. They're even rumored to be engaged, as a matter of fact. But more than that, though, Kris Jenner's quotes about Corey Gamble prove that they're a couple that's going to last.
Jenner and Gamble have been dating since at least 2015. It was then that Gamble began appearing on Keeping Up with the Kardashians and it's clear that the relationship was still pretty new. At the time, Khloé and the rest of the Kardashian sisters were basically grilling Gamble about his past and about his true intentions with their mother. And while Jenner and Gamble may have gotten off to an uneasy start thanks to the Kardashian girls, they've proven to everyone that their relationship is more than reality TV or tabloid fodder.
Since they made their romance official, Jenner and Gamble have both had incredible things to say about each other. And each time they open up about the relationship, they give fans a glimpse into the love and effort they both put into it. Jenner, in particular, has been pretty open about her relationship with Gamble and I've compiled quite a few of her quotes about him that show the true nature of their romance.
Here's what Jenner has had to say about Gamble over the years:
On Gamble becoming part of the family
"Corey is such a great guy and the kids really like him a lot, but I'm a little nervous to see their reaction when they see Corey's with me."
Jenner said this during the 2015 season of Keeping Up with the Kardashians when Gamble's role in her life was still new and fresh. It's sweet that she was nervous about how the kids would react to him. It shows just how much she cared about their approval of her relationship right from the beginning.
On whether she would marry Corey
Back in February 2017, Jenner appeared on The Ellen Show and was asked how she felt about possibly marrying Gamble.
"You know, I've done that twice and it didn't work out so well. So, I don't know. You never know … I'm going to take a page out of Goldie [Hawn] and Kurt's [Russell] book. Or Kourtney's [Kardashian]. You know, I just think as long as things are going so well, why ruffle it up?"
So, it sounds like the relationship between Jenner and Corey is strong enough (in Jenner's eyes, anyway) to exist without a marriage license. And that really speaks to what they feel for each other!
On her apparent engagement ring from Gamble
In recent weeks, media outlets have been reporting that Gamble gave Jenner an engagement ring, but the couple hasn't confirmed anything as of yet. When asked about the ring by James Corden on The Late Late Show, Jenner went silent.
But a little prodding from Corden later prompted this response:
"This isn't the ring," Jenner said.
And with that, fans got what could be confirmation that Gamble did, indeed, propose. So exciting!