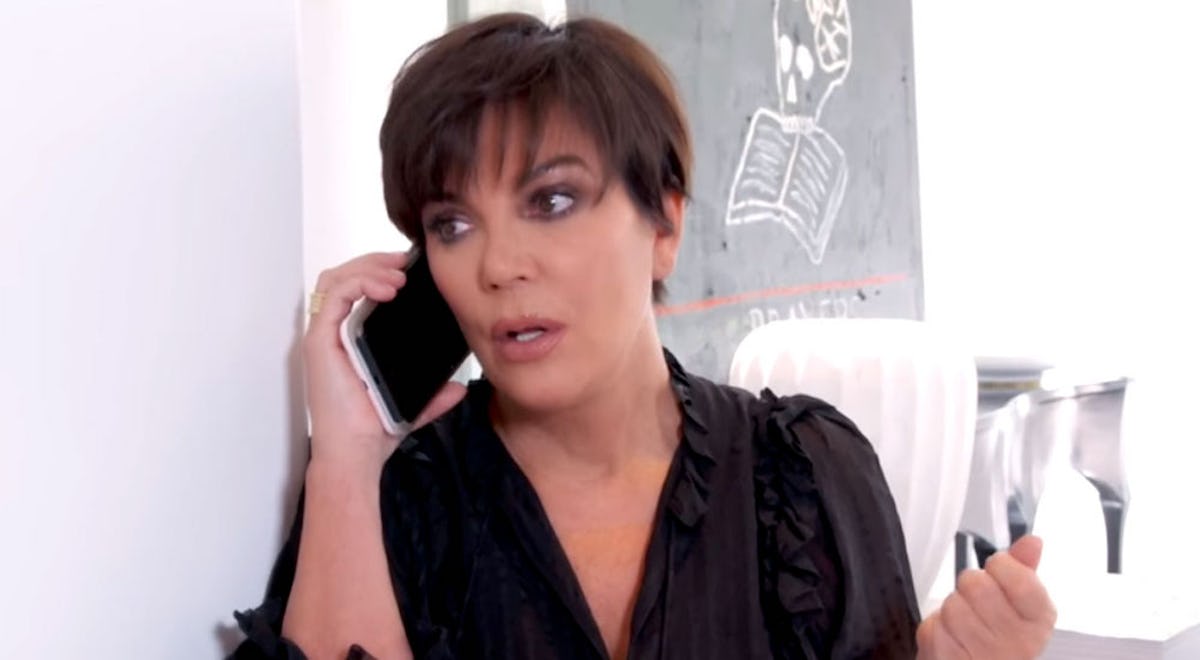 Joel McHale Revealed Kris Jenner Used To Complain To E! About 'The Soup'
E!
Amazing news for the pop culture junkies of the late-2000s: The Soup is back. Well... I guess it's not an official revival of The Soup, but although Netflix's new weekly series The Joel McHale Show With Joel McHale has a different name, it really is just an updated version of The Soup. And now that he's back in front of that green screen making fun of TV shows, Joel McHale is dishing about all the craziness that went on behind the scenes with The Soup, including how Kris Jenner would apparently complain about The Soup to E! whenever the show poked fun at the Kardashians.
Obviously, we all know that Kris Jenner's power is pretty much unparalleled, and that's especially true when she's in her home turf at E!. Although The Soup actually predated Keeping Up With the Kardashians on the cable network (premiering in 2004), America's most famous family quickly became E!'s biggest franchise after KUWTK premiered in 2007. E!'s first family also quickly became a target for The Soup, the clip show whose bread and butter was snarky takedowns of reality television. Well, apparently momager Kris Jenner wasn't a fan of another show on the same network dissing her family, and would make some calls to the E! bigwigs whenever Joel McHale made a Kardashian joke on The Soup.
Joel McHale recalled his complicated relationship with the Kardashians and in turn, the E! network, during his The Soup days in a new interview with Variety. He noted that in the early days, when exec Ted Harbert was running E!, Harbert would get calls from Kris Jenner and ask McHale to lay off the Kardashians. But after Harbert left E! in 2011 (and as the Kardashians had grown to meteoric fame), the new network chiefs expressly forbid McHale from making jokes about the Kardashians any more:
Way back when, Kris Kardashian would complain about our jokes, and Ted would literally go, "Hey man, Kris called, can you just lay off of her for a week?" It was like our softball went into our yard and they were like, "Just don't throw it over the fence." So that was cool and that's as far as it went with him, but when he left, things changed and they definitely had a different feeling. The next administration, the president said to my face, "Don't make fun of the Kardashians. We don't want you to make fun of the Kardashians anymore." So I was like, oh this show is doomed because that's why the show worked, because we would make fun of ourselves. It's like when Letterman made fun of GE in the '80s. You have to bite the hand that feeds you. The network really did not like when the Kardashians first came out and then we just said Kim Kardashian was only famous for having a big a— and a sex tape.
Joel McHale said that he felt this new strictness was one of the reasons The Soup suffered in its final years, before finally getting canceled by E! in 2015 after 12 seasons. But now that McHale is back on a new network with The Soup 2.0... ahem, I mean The Joel McHale Show, he's free to poke fun at the Kardashians all he wants, although he says that he won't be writing Kardashian jokes just because he can. McHale points out that there is a lot more ridiculous TV shows now than there was back in The Soup's day, so if the Kardashians just aren't doing anything crazy whatever week, then he simply won't be mentioning them on his show.
The premiere episode of The Joel McHale Show With Joel McHale is streaming on Netflix now.