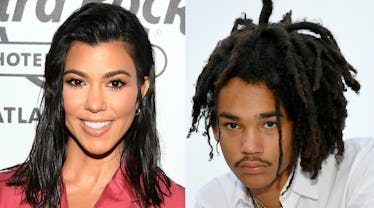 Here's How Kourtney K Reportedly Celebrated Luka Sabbat's 21st Birthday With Him
Dave Kotinsky/Getty Images; Dia Dipasupil/Getty Images
For months now, there have been rumors swirling that Kourtney Kardashian and Luka Sabbat are a dedicated couple, despite the fact that sources close to the situation have insisted things between them are casual. Well, the two stars reportedly added fuel to the fire this past Monday, Nov. 26, with a little birthday celebration. Yup, Kourtney Kardashian and Luka Sabbat celebrated his birthday together at the Peppermint Club in West Hollywood. Kardashian was spotted at the club and an eyewitness told to E! News that she seemed "confident and comfortable" around Sabbat's friends.
Elite Daily reached out to Kardashian and Sabbat's teams for comment, but did not hear back by the time of publication.
The eyewitness told E! News, that Kardashian showed up to Sabbat's 21st birthday party, "quickly said hello and began mingling with friends."
She also reportedly didn't hang around Sabbat too much during the evening so that he could enjoy his night with all his buddies. And that's not to say Kardashian was alone for the evening. She spent the evening chatting up lots of people, according to E! News' source.
"Kourtney seemed to know a lot of people and was very confident and comfortable," the insider source told E! News. "Luka was surrounded by friends coming up to him and they were all having a great time."
Overall, though, it seems like Kardashian and Sabbat did their own thing for the night, which just proves they're as comfortable apart as they are together.
"Kourtney let Luka do his thing and stood back talking to her friends for most of the night," the eyewitness said. "She seemed to be enjoying herself and had a big smile on her face as she watched Luka and whenever they chatted. Kourtney stayed for several hours and left after midnight."
All in all, it sounds like Kardashian and Sabbat have a pretty calm relationship, whatever that relationship may be.
Kardashian, 39, and Sabbat, now 21, have reportedly been seeing each other since early September 2018. The two were spotted leaving The Nice Guy restaurant in Los Angeles, which sparked reports that they were dating. According to a Sept. 17 report from E! News, Kardashian and Sabbat have been friends for a while, but weren't looking for anything serious at the time.
"They always had chemistry, but Kourtney was in a serious relationship and her and Luka always kept things platonic," the source revealed. "Now that Kourtney is single, she has been enjoying being able to do whatever she wants… Kourtney isn't looking for anything serious right now and is just enjoying her fun. Her and Luka laugh a lot and she's enjoying her time with him. It's easy for her since they have had a prior friendship for the past year now."
A second source also confirmed that the relationship wasn't serious.
"They started off as friends and it seems like it's turning into more," the second source said. "She is very attracted to him and wants to keep seeing him. She's known him for awhile [sic] and is very comfortable with him. She's always thought he was very easy to talk to and fun to hang out with… They are spending time together and its casual for now. Kourtney's having fun and not taking anything too seriously."
Well, all of that seems to be going really well for them! Glad to see Kardashian happy and enjoying her freedom. And Sabbat seems like a great match for her right now.