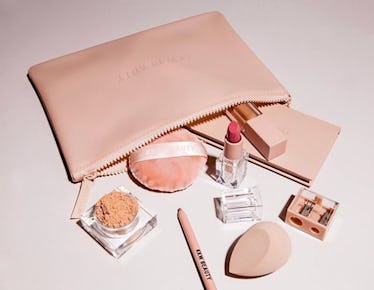 KKW Beauty's Cyber Monday Sale Is Fire AF & You Can Pay After You Buy
kkwbeauty on Instagram
I remember the first time I heard about Black Friday. I was in high school — it had been around for years, but my friends were the first ones to introduce me to the shopping event of the season. Then, years later, Black Friday was overshadowed by a new shopping phenomenon: Cyber Monday. Fast forward to today and all my beauty BFFS can talk about is KKW Beauty's Cyber Monday 2018 sale, and just like that, I feel like I'm back in school, swapping shopping tips.
This Cyber Monday, the entire KKW Beauty website is 30 percent off the original price, including the new KKW x Kylie collection, the OG favorites (like contour kits, neutral eye shadow palettes, and nude lip liners) and even all the super Instagrammable KKW x Mario pieces. And while I'd suggest filling your online carts STAT (things are going to sell out!), the sale will be online until Tuesday, November 27 at 12 p.m. PST.
And get this: KKW Beauty is even offering an after-pay option at checkout. With this, you can go absolutely wild! Add everything you've ever wanted to your cart and pay for your purchase later over four equal payments. I mean, does Kim want me to go broke?!?!
To help you rack up the savings, I'm sharing the must-have KKW Beauty staples you need to add to your makeup bags this Cyber Monday:
Nude Creme Lipstick (regular price: $18, Cyber Monday sale price: $13; kkwbeauty.com)
Liquid Concealers (regular price: $18, Cyber Monday sale price: $13; kkwbeauty.com)
Highlighter Palette (regular price: $44, Cyber Monday sale price: $30; kkwbeauty.com)
KKW x MARIO 10 Pan Eyeshadow Palette (regular price: $45, Cyber Monday sale price: $32; kkwbeauty.com)
Ultralight Beams Duos (regular price: $32, Cyber Monday sale price: $23; kkwbeauty.com)
Flashing Lights Pressed Powders (regular price: $21, Cyber Monday sale price: $15; kkwbeauty.com)
Powder Contour Singles (regular price: $20, Cyber Monday sale price: $14; kkwbeauty.com)
Peach Creme Lip Liners (regular price: $12, Cyber Monday sale price: $9; kkwbeauty.com)
Classic Blossom Blushes (regular price: $18, Cyber Monday sale price: $13; kkwbeauty.com)
Classic Blossom Eye Shadow Palette (regular price: $45, Cyber Monday sale price: $32; kkwbeauty.com)
KKW x ARGENIS Creme Color Sticks Set (regular price: $90, Cyber Monday sale price: $63; kkwbeauty.com)
Ultralight Beams Lip Gloss Singles (regular price: $18, Cyber Monday sale price: $13; kkwbeauty.com)
Creme Contour Sticks (regular price: $18, Cyber Monday sale price: $13; kkwbeauty.com)
Creme Contour & Highlighter Sets (regular price: $32, Cyber Monday sale price: $22; kkwbeauty.com)
KKW x MARIO Lip Gloss (regular price: $18, Cyber Monday sale price: $13; kkwbeauty.com)
KKW x MARIO Crème Lipstick (regular price: $20, Cyber Monday sale price: $14; kkwbeauty.com)
Concealer Kits (regular price: $90, Cyber Monday sale price: $63; kkwbeauty.com)
Baking Powders (regular price: $18, Cyber Monday sale price: $13; kkwbeauty.com)
Flashing Lights Pressed Pigments Bundle (regular price: $147, Cyber Monday sale price: $102; kkwbeauty.com)
Flashing Lights Loose Pigments Bundle (regular price: $119, Cyber Monday sale price: $84; kkwbeauty.com)