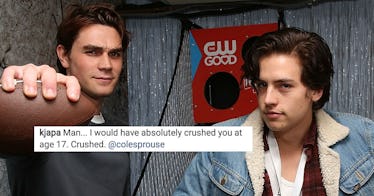 KJ Apa Tried To Troll Cole Sprouse On Instagram & The Whole 'Riverdale' Cast Clapped Back
Robin Marchant/Getty Images; Instagram/KJApa
The cast of Riverdale loves a good trolling session, as they recently proved on Instagram. On Monday, June 25, KJ Apa trolled Cole Sprouse with a fan-created meme that sent the entire cast of the hit show reeling. The meme showcases Apa and Sprouse in a side-by-side comparison of pictures when they were both just teenagers (17, to be exact). And let me just say, a whole lot has changed over the years.
As you probably know, Apa and Sprouse definitely live up to their heartthrob statuses on Riverdale. But every now and again, a throwback photo proves that they weren't always heartthrob material ...much like the one Apa posted on Insta. Let's just say Apa hit his growth spurt before Sprouse and he was more than ready to give Sprouse hell for it on the 'gram.
"KJ Apa and Cole Sprouse when they were actually 17," the picture read, along with photos of the Riverdale stars. Unfortunately for Sprouse, he definitely looked like he was still in the throes of puberty, unlike Apa, who was hella buff by 17.
"Man... I would have absolutely crushed you at age 17. Crushed. @colesprouse … And I still would now," Apa said of the meme on Instagram.
Sprouse, of course, had a comeback for that one. And quite a snappy one, too.
"You wouldn't even have survived the weight of my wallet, b---h," Sprouse wrote under the photo. Of course, he's referring to the fortune he must have acquired starring in not one, but two of Disney Channel's most iconic children's shows, The Suite Life of Zack and Cody and Suite Life On Deck.
And that's when the real fun began, because almost everyone from the Riverdale cast started getting involved.
Skeet Ulrich, who plays FP Jones, was the first to chime in. "Hahahaha!!! Neither of you would have even touched my mullet," he wrote.
Then Lili Reinhart, AKA Betty Cooper, went in on both Sprouse and Apa. "I would've pummeled both of you p-----s," she said.
Charles Melton, who plays Reverdale's school bully, Reggie Mantle, even chimed in with a comment right from Reggie's arsenal. "I would've squashed you scrubs at the same time with both hands tied behind my back," he wrote.
But that wasn't the end of the commentary. Nope, not by a long shot because then Casey Cott (Kevin Keller on the show) got into it as well.
"I would have watched the fight from the sidelines wishing for peace amongst the school," he wrote.
So, that slowed down the aggressive trolling for the time being. Then, of course, Mark Consuelos had to add his own two cents.
"Kids. Keep it down," the actor wrote. Hiram Lodge definitely would not approve of his diplomatic sentiment, to say the least.
And that kind of settled things amongst the group.
Obviously, everyone involved is totally joking. The whole debacle is actually really hilarious because almost everyone involved here plays a teenager on Riverdale, but they're all in their 20s. So, really, they're just trolling themselves in response to Apa's initial trolling.
Apa, of course, plays Archie Andrews on the show. Sprouse plays his former best friend Jughead Jones. While their characters may frequently be at odds with each other, this little Instagram commenting/trolling session just proves how much they get along in real life.
They're literally best friends and set the standard for friendship goals. There are even a bunch of selfies to prove it.
I mean, look at them posing for the camera in San Francisco:
They're hugging it out here, so their friendship isn't all about trolling, I guess:
And they're showing each other some love at Coachella here, which is sweet:
Apa and Sprouse definitely have the whole BFF thing down pat and they're showing everyone how it's done.
The Riverdale crew is now in the midst of setting up the highly anticipated third season of the show. They're casting new faces, crafting new storylines, and making sure that the new season is everything fans are expecting it to be.
The popular CW show is set to premiere the third season sometime in October 2018, so fans will have to wait a few months to find out what happens to their favorite cast of characters. I'm sure most of you can't wait to see how all the angst and drama plays out!