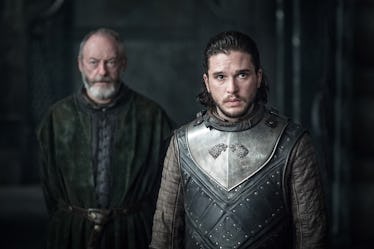 Kit Harington Revealed Exactly What He Took From The 'GOT' Set After Filming Ended
HBO
Game of Thrones Season 8 technically wrapped filming back in July, with Kit Harington and Maisie Williams the last two characters to shoot scenes before the final clapper. As the last ones left on set, they were in a better position to take home souvenirs from filming, even though most of the actors did wind up with a little token of some sort. With most of the set and props planned to be part of exhibits come 2019, those tokens had to be small, or be one of multiple copies. That's why Kit Harington took Jon Snow's armor, or at least a few pieces of it, since there was more than one set.
Speaking to Men's Journal, he admitted he aimed for something small. This way, it wouldn't be an issue for the series later down the line when they want to put together a Game of Thrones: The Exhibition traveling museum, or create a showpiece of props and costumes from the show at major events like SXSW, or even just pop up displays to help promote Season 8.
I actually didn't take anything too crazy. I kept some of the armor that I use for Jon Snow's outfit, like the wrist protectors I'll wear in his costume. I thought those were pretty cool.
By "wrist protectors," Harrington actually means vambrances. Just in case anyone was wonder which parts of his armor set he meant. You can see them below:
Harington told Men's Journal he was quite chuffed Game of Thrones won for Best Drama in Season 7.
We were away for a while, and I wasn't even sure we'd get nominated, which in some ways sounds mad. But we missed a year, and sometimes they'll wait for a final season to give the awards. I thought Season 7 was brilliant, and I'm glad they recognized that.
To him, last season featured some of his best and toughest work to date.
It was brutal, being out there in minus-40 degrees and the freezing wind. It can be quite an experience. Overall, I love location work. I'm more of a person that thinks there is a benefit of filming on location, whether its Game of Thrones or something else.
As for Season 8, Harington's bag, as always, is to be as dull as possible talking about it, so people leave him alone and lessen his risk of spoiler exposure.
This is going to be so boring, but it's a minefield to say anything. Even in the past when I've said something it gets taken the wrong way, or that I revealed something. Even if I'll say that it's going to be an exciting season, it'll get put out in the wrong way. I don't know how I'm going to deal with this when I actually have to promote the thing, but I don't want anything to get taken wrongly.
Game of Thrones Season 8 promotional period will probably not start until 2019, which is when the show is expected to return to HBO for the last time.