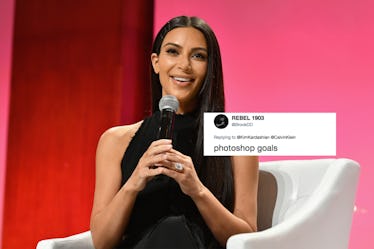 Fans Are Accusing Kim Kardashian Of Photoshop After Her Latest Underwear Selfie
Slaven Vlasic/Getty Images Entertainment/Getty Images/Twitter
Haters will say it's Photoshop. Kim Kardashian is getting hate online again from fans who claim she altered a selfie she posted to Instagram on Wednesday, April 4. In the photo, Kardashian is posing in front of a mirror wearing black Calvin Klein underwear. Kim Kardashian's "Photoshopped" Calvin Klein selfie might not look altered at first glance, but people are arguing that when you look closely at the bottom half of the photo, there are some odd curves where curves shouldn't be. Elite Daily reached out to Kardashian's team for comment on the image and the claim it's Photoshopped, but did not hear back by the time of publication.
Kardashian posted the photo with the caption, "Found this pic I took in the bathroom on set of My @calvinklein shoot #MyCalvins #ad." Fans immediately started pointing out that the doors in the bathroom where the photo was taken seemed to be skewed. To me, the lines do look uneven, and I can't deny that I've spent the last couple of minutes trying to figure this out. So while I'm not going to be the one to cry Photoshop, I will admit that this pic is sus.
Kardashian posted the selfie of her wearing black Calvin Klein underwear on Wednesday, April 4.
Fans aren't pleased with the reported Photoshop work and called Kardashian out for it in the comments. One user, @paxheco_vic, wrote, "Gotta stop with the damn Photoshop kim, or either learn to edit them better. Explain the curved door gaps towards the bottom of the picture!!! @kimkardashian." Another user, @yulisa_becerra, wrote, "Definitely photoshopped. You can definitely tell."
Twitter was talking about the photo as well.
People responded to Kardashian's tweet of the Calvin Klein selfie saying things like, "Photoshop goals" and "how many different bodies you have."
This is the third time in just a few weeks that Kardashian has been accused of Photoshopping her photos. On March 24, Kardashian posted a paparazzi photo of her that showed a severely altered car in the background. Fans immediately accused of her failing at this apparent Photoshop attempt, but Kardashian addressed the Photoshop accusations in a post on her app on March 26.
She said,
I'm seeing online and on news media outlets that I suffered a 'Photoshop fail.' So ridiculous! I reposted a picture on Instagram that a fan had already posted—I only added a filter to it. It looks like the fan mirrored the photo, which is the reason the car looks like that. So, this is actually really funny to me! Who would even Photoshop a car to look like that?! LOL
Honestly, I believe this explanation. Kim K brought the receipts for this one. The very next day, she was accused of Photoshopping a photo she posted on March 27 that showed her putting makeup on in front of a mirror. The picture showed her leaning against a counter while wearing just her underwear and her hair in a towel. It was apparently a behind-the-scenes photo from her photo shoot for the KKW x MARIO collaboration. Kardashian tweeted the photo and said, "Getting ready this morning with my new lips from the KKW X MARIO." One fan tweeted back at the photo saying, "Nice photoshop, didn't realize the counter top could bend like that."
Celebrities are free to do whatever they want when it comes to their own photos, but there's a lot to be said about being careful about what you post when you have a platform as large as Kardashian's. However, Kardashian has not publicly commented on this photo and whether or not it is Photoshopped, so until we know for sure, it's all just social media hearsay.