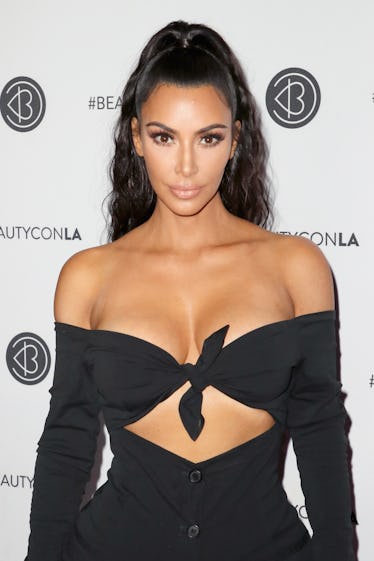 Saint West Looks Exactly Like Kanye In This Adorable Photo Kim Kardashian Just Posted
David Livingston/Getty Images Entertainment/Getty Images
Kim Kardashian is posting photos of her adorable kids again! And this time, you will literally do a double take because Kardashian posted a photo of her son that looks exactly like Kanye West. Kim Kardashian's photo of Saint West is, hands down, one of the cutest photos she's ever posted. The little one is donning a sailor's hat and pursing his lips exactly the way his dad would.
Kardashian posted the photo to her Instagram on Tuesday, Aug. 21. "My captain👨🏾‍✈️!!!! MY WHOLE HEART," she captioned the post. In the photo, Saint basically looks like West's twin. He's even got the same little facial expression his dad gives. It's genuinely adorable.
Just a few hours after posting it, Kardashian's photo of Saint garnered over a million likes and countless comments. And almost immediately, fans were noting the obvious resemblance between Saint and his dad.
"Omg all I see is Kanye," one fan wrote.
Another fan basically said the same thing, "Okay damn he's an exact copy of Kanye ❤️"
Some fans even thought the photo of Saint was actually an old one of his dad. "Is this Saint or Kanye I'm confused," one fan wrote.
"I thought this must be an old pic of Kanye! Twinning!" another fan commented.
I can definitely see why they'd be confused. Not only does Saint look exactly like his father, but Kardashian has taken to using a kind of vintage filter on her photos. So, the photo of Saint really looks like it could be an old one of West.
Here's a look at the little Kanye lookalike:
That sweet photo of Saint wasn't the only one Kardashian posted on Tuesday. She also posted one of herself in a pink jumpsuit atop what looks to be a yacht. She's literally baking in the sun, but looks amazing doing it.
Catch a glimpse of Kardashian at sea:
Kardashian also posted a photo of herself and Larsa Pippen on the beach:
And on Monday, Aug. 20, she posted another of herself and said friends:
Apparently, Kardashian is in Miami on David Grutman's yacht with her kids and friends Jonathan Cheban and Larsa Pippen. So, Kardashian's stay in Miami is a group affair.
Kardashian has actually been documenting her Miami trip on Snapchat. The Instagram fan account kimksnapchats posted this video of Kardashian and Saint jamming to some music on the yacht:
"Man, it does feel good to be back in Miami," Kardashian says in the video.
Kardashian also posted a video of Saint (in his sailor's hat!) talking about how he hears "daddy" singing. It's beyond adorable. Have a look:
And, of course, there was also this video of Saint dancing:
Clearly, Saint knows how to have a good time and it's so sweet.
Needless to say, it seems like Kardashian and her kids are having a wonderful time in Miami with friends. Saint really seems to be enjoying himself. Thank goodness Kardashian is documenting and sharing all this cuteness.