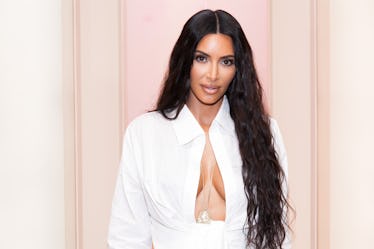 Kim Kardashian Just Said She's Over Selfies & I Feel So Attacked Right Now
Presley Ann/Getty Images Entertainment/Getty Images
So, June 21 is National Selfie Day. And if you're like most people, that means you'll take your phone, snap a great selfie, and post it to Instagram to mark the occasion. Kim Kardashian, however, won't likely be joining in on the selfie fun, though. Kardashian, who is widely regarded as the queen of selfies, is apparently taking a step back from her phone and from taking pics of herself. At least that's what she said in a recent interview. So, basically, selfies are old news now. Actually, Kim Kardashian's comments about selfies being over are coming as a huge shock to some people.
The selfie-related revelation comes via an interview Kardashian did with KTLA 5 anchor Sam Rubin on Wednesday, June 20. When Rubin asked the reality star how she felt about taking pics, Kardashian revealed that selfies just aren't her thing anymore:
I don't take selfies anymore, I don't really like them as much … It's not all about… taking selfies, I used to spend too much of my time taking selfies.
Um, shocker! That Kardashian doesn't really do selfies anymore is especially surprising since she once published an entire book of her own selfies. It was literally just a book of selfies that she probably made bank on. And now she's not doing that anymore? What?!
Even fans are going wild over this new bit of information.
Some fans are pretty sad about the news:
Others were super confused about why Kardashian's lack of selfies was news:
And there were those who felt she had a really great reason for pulling back on the selfies:
Even KTLA 5 anchor Sam Rubin was shocked enough to tweet about it:
Apparently, Kardashian is more concerned with living in the moment than spending time on her phone, which makes sense since she's a mom to three little ones now:
I just would like to live in real time a little bit more. I don't mind pictures, but I'm just not on my phone the way that I used to be.
Yep, that definitely sounds like a mom move, which is wonderful. The kids need way more attention than she does, so it's great that she's trying to be less focused on herself (I mean this in the best way possible) and turn her attention to other things.
Speaking of her kids, Kardashian has actually turned the camera on them quite a bit in recent months.
Here's a pic she posted of Saint West on June 18:
And here's a sweet one of hubby Kanye West with their daughter North:
Kardashian included a really sweet caption with this one, too:
Happy Father's Day babe. Thanks for being such a good dad to our babies! Shout out to all of the amazing dads out there! 💕
How adorable! Although Kardashian seems to have sworn off selfies, she's not totally against them.
I'd like to call your attention to Exhibit A:
And now Exhibit B:
And here's Exhibit C:
So, it seems like Kardashian is mixing selfie time with family time, which is a really nice thing to see. And it's smart, too. She gets to take all the selfies she wants, but also make sure that she spends quality time with her kids. And on top of all that, she can post those cute pics to social media and share with her fans like she always does. She's basically created a situation in which everyone wins. You have to admire how clever that is and how much balance it takes to be a mom, a mogul, and a selfie queen.