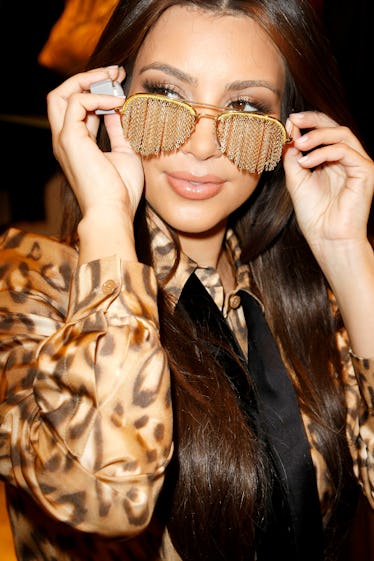 There's A Hilarious Reason Kim Kardashian Has Been Wearing Those Tiny Sunglasses
Florian Seefried/Getty Images Entertainment/Getty Images
Remember this past summer when micro-shades became a huge thing? And everyone from Bella Hadid and Kendall Jenner to Zoë Kravitz and Millie Bobby Brown were spotted rocking the tiny pairs of specs, which I can't imagine actually even, you know, protect your eyes. Still, I get that it's an aesthetic the stars were going for, and if there was any remaining doubt, it's now vanished thanks to the reveal during the Jan. 7 episode of KUWTK that Kim Kardashian wears tiny sunglasses because Kanye told her to. And he did it in an email.
You heard me.
"[Kanye] sent me a whole email like, 'You cannot wear big glasses anymore. It's all about tiny little glasses,'" Kardashian told bestie Jonathan Cheban, who is getting way more screen time this season than either Kendall or Kylie. At the time, the two were meeting for a meal, and Kim divulged that the set of the tiny frames she was rocking indoors (because of course she was) had been hand-picked by her super-discerning husband. "He sent me like, millions of '90s photos with tiny little glasses."
First of all... I love the '90s, so well done, sir! And any time this man gives his wife fashion advice, I am so here for it. Like remember when Kim stopped by Live! With Kelly And Michael a few years ago and admitted to bursting into tears after Kanye went through her closet and threw out everything he didn't think was cool enough?
Pure gold.
But here's the thing: Kanye really has upped Kim's fashion game big time. You can't deny that the reality star has become a bona fide style icon since she started following his advice. The only problem I have this time around is with her husband's chosen method of delivery. Because email? That's, just like, so 2005. I can't even imagine how one of these old school messages would begin. Do you think Pablo goes the formal route with a "Dear Kimberly" at the top? Or do you think he just launches right in all stream-of-conscious without any punctuation? And what do you think he wrote in the subject line? Whatever it was, I bet there were all caps and an exclamation point involved.
Also... millions of photos? I seriously hope they weren't hi-res. Because if you've ever been on the receiving end of an email with tons of hi-res images attached, then you know how annoying it is. I mean, who wants to download and then open all those files? That so does not sound like something Kim would be up for. Kris, maybe. But Kim? Never.
Here's the other thing: Wouldn't it have been so much easier for Kanye to just FaceTime Kim to share his inspired mission? Or, like, wait until he got home later? I mean, he could have even had a whole bunch of prop glasses on hand to illustrate his point.
Major missed opp right there, dontcha think?
Of course, there's always the chance Kanye's email will somehow be leaked in its entirety, and I would pay good money right now for someone to actually make that happen and yes, Rob Kardashian, I'm talking to you.
Anyway, as we all know, Kim eventually took her husband's advice and traded in her signature oversized sunnies for teeny tiny ones over the summer, and I have to say the look is a major improvement.
Not only am I loving the whole Kate-Hudson-in-Almost-Famous vibe, but the look also helps solve that whole pesky sunglasses tan issue poor Keeks has suffered from in the past.
So yeah, I'm totally on board with the micro-shade trend. Here's hoping it sticks around for another summer so I can jump right on that bandwagon.
Obviously, there's always the possibility that Kanye will start spinning his wheels again over the next six months and suddenly decide he wants to try to make these bad boys re-happen:
In which case, the only person who can save us is Regina George and she's not even real.