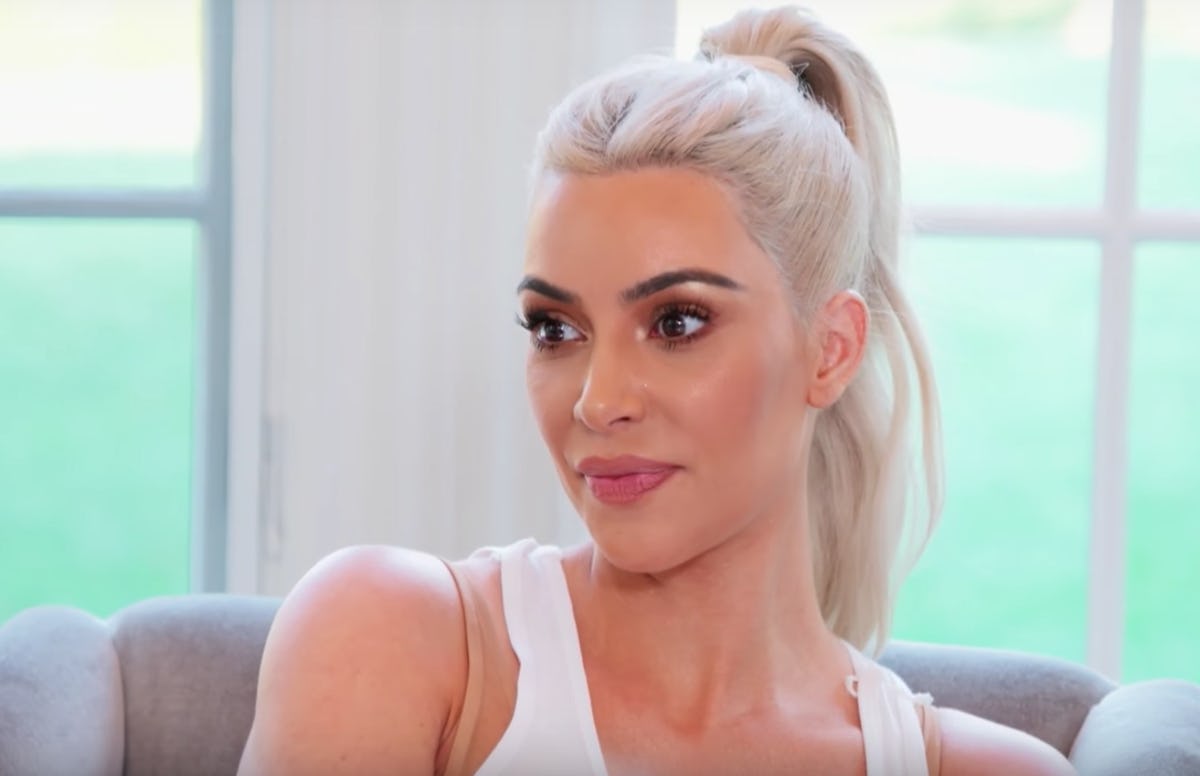 Kim Kardashian Revealed She Regrets Hiring A Surrogate On 'KUWTK' & The Reason Is So Sad
The latest episode of Keeping Up With The Kardashians was all about babies. Kourtney talked about the possibility of freezing her eggs, Khloé revealed she's having her baby in Cleveland where Tristan Thompson lives, and Kim revealed an unexpected truth about her surrogate. At one point in the Feb. 25, 2018, episode, it was revealed that Kim Kardashian regrets using a surrogate. She expressed concern that she would have a harder time bonding with baby Chicago West because she wasn't carrying her herself. Of course, this was said while her surrogate was still pregnant, so it's entirely possible Kardashian feels different about surrogacy now. It's also possible the comment was made in a moment of doubt for Kardashian, as mothers-to-be go through a whirlwind of thoughts and feelings while waiting for their babies to arrive. And if none of the above are true, that's OK, too. Surrogacy isn't for everyone, and it's OK to feel differently about it even after you've decided to use that avenue.
Kim was talking to Khloé when she revealed her fears about not carrying the baby herself. She said, "Even though I will appreciate not having to gain the weight and then lose the weight … I so would have rather have done it on my own. I just hope I care as much. … Everyone says it's like no different."
Kim also helped Khloé in the episode when they learned someone had leaked the news of Khloé's pregnancy to the press.
The family constantly deals with their personal lives being spoken about by people outside of the family, so Kim was straightforward in her advice to her sister, saying that if someone has the story and they say they're going to leak it, she might not have any other choice but to be OK with it. Khloé said in a solo shot, "There's nothing I can do about the article, it's out. But I'm not going to confirm it yet." She doesn't specify which article she was talking about or the specifics of what it revealed, but it is clear that the article was revealing her pregnancy at a time when she wasn't ready to confirm it.
Before Kylie Jenner and Khloé Kardashian's respective pregnancy news was leaked in September of 2017, there were rumors Kim Kardashian and Kanye West had hired a surrogate to carry their third child.
They didn't confirm anything until the Hollywood Reporter Kardashian 10-year anniversary interview, and even then, Kardashian only said they were trying to have another baby, not that they had hired a surrogate. So she knows a thing or two about not being ready to share your baby news but it being leaked anyway.
This recent episode of Keeping Up With The Kardashians is far from the first time Kardashian talked about her family's surrogacy process, however. Once she confirmed she and West were expecting their third child via surrogate, she talked about the experience a lot during interviews. There's a stereotype around surrogacy that says it's basically an easy way to have a baby (easy if you can afford to pay for it, that is). Kardashian shot down that trope in a November interview with Entertainment Tonight. "You know, it is really different," she said. "Anyone that says or thinks it is just the easy way out is just completely wrong. I think it is so much harder to go through it this way, because you are not really in control." She added,
I hated being pregnant and I never thought I'd ever ... I thought this was going to be so easy, but you know, even in how much I hated it, if I could do it myself I would have preferred that. So, that inner struggle is kind of hard, but I am just rolling with it and it is what it is.
Between these quotes and the most recent episode of Keeping Up With The Kardashians, Kim Kardashian has made it pretty clear that surrogacy is in no way an "easy way out."