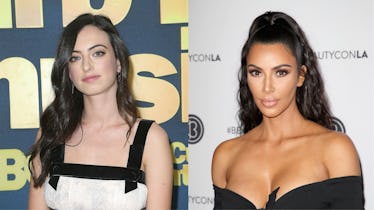 Kim Kardashian Is Giving Up Plastic Straws After Pete Davidson's Ex Called Her Out
Jimi Celeste/Patrick McMullan/Getty Images; David Livingston/Getty Images Entertainment/Getty Images
Cazzie David is calling on Kim Kardashian to practice what she preaches after the KUWTK star urged her Instagram followers to cut back on plastic consumption. Now, it sounds like David's words might have made an impact on Kardashian, because the mom-of-three is revealing she's making some changes in the West household after Pete Davidson's ex brought up Kardashian's considerable plastic waste. Kim Kardashian gave up plastic straws after Cazzie David called her out, and I'm honestly so surprised by how this all transpired.
It all started when Kim K, who's taken on a more activist role of late, took to her Instagram Story to illustrate the amount of plastic waste that's piling up with a PSA. "Plastic Emergency," she captioned the photo, which shows a mountain of garbage. "Our next generation has to live with this! Let's care enough to fix it!"
While the makeup mogul's message was undeniably an important one, Cazzie David — who's recently been in the news for her past relationship with Pete Davidson — took issue with the pot calling the kettle black. After Kim posted her environmentalist message, David kindly, but firmly, pointed out the inconsistencies with the reality star's own lavish Sub Zero-filled lifestyle.
"30 percent of the world's plastic consumption is in the Kardashian refrigerators," she wrote. She then directly addressed Kim, "Have you family stop using water bottles" with a heart emoji. Honestly, it's such a non-preachy and non-snarky way to get her point across, and I totally respect it.
It looks like Kardashian might have taken her request to heart, because the television personality later took to her Instagram Story to reveal that her family is no longer using plastic straws.
"Calabasas has banned plastic straws! So is the West Household," she captioned a snap of her holding a plastic cup fitted with a paper straw. While she didn't directly address David, something tells me that this is the social media maven's way of showing that yes, she's also doing her part to cut back on plastic waste.
OK, so Kim K might not be giving up plastic bottles anytime soon, but plastic straws are definitely a start. Anyone who's religiously watched Keeping Up With the Kardashians can't help but notice the massive refrigerators filled to the brim with plastic bottles in every shape and form. They literally have any packaged sip you could possibly want in their Sub-Zeros. Even the Twitterverse has taken note.
Before Kardashian's legion of fans starts coming for David, however, I think it's important to note how she navigated this delicate situation. First of all, David is obviously a KUTWK fan, otherwise she wouldn't have even known about that plastic bottle situation. Plus, she wasn't shy about fangirling when she met Khloé Kardashian a couple years ago.
Additionally, she previously sang Kim K's praises during an October 2016 Vanity Fair article. From the sounds of it, she's a huge fan of the KKW Beauty entrepreneur's 'Gram game.
"People so often forget that their Instagram is more than just their latest post. Before posting, step back and look at the bigger picture, a.k.a. your 'flow,'" David told the publication. "Kim Kardashian West uses the same filter for all of her photos in order to maintain her light, golden-brown Insta flow. You can't live your life on a post-to-post basis — it will make your flow sloppy, and you simply can't have that."
Words of wisdom.
Something tells me there's no Instagram beef here. If anything, Kim K seems like someone who would appreciate her friends and followers keeping it real.