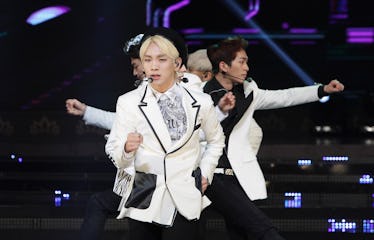 The Lead Singer Of A K-Pop Group Is Dead & The Details Are Heartbreaking
Chung Sung-Jun/Getty Images Entertainment/Getty Images
It is a tragic day in the music industry. On the morning of Dec. 18, K-Pop star Kim Jong-Hyun of the group SHINee died after an apparent suicide in his Seoul home. He was reportedly found unconscious, and was pronounced dead after being taken to the hospital. He was 27 years old. Elite Daily reached out to SM Entertainment for comment, but did not hear back by the time of publication.
Jong-Hyun was the frontman of the hugely popular K-Pop group, SHINee, which formed in South Korea in 2008. The Guardian reports the group was created by SM Entertainment, and achieved wild success after releasing six albums in Korea and five more in Japan. Since then, K-Pop has made its way to the Western masses, and fans across the world have loved Jong-Hyun and his work.
The K-Pop genre has garnered one of the largest social media fan bases out there, and the news of Jong-Hyun's apparent suicide has left his and K-Pop's followers rocked. There's a huge outpour of support and sorrow for his fellow band members, and thousands of inspiring and emotional messages are being shared on Twitter.
One user wrote,
Today we lost one of the most talented artists in korea. i'm hearbroken and devastated by the news. my deepest condolences goes out to jonghyun's family, shinee and shawols. rest in peace, kim jonghyun. thank you for everything.
Another fan shared the message,
RIP jonghyun. Thank you for sharing your beautiful voice with us and completing SHINee. Just hope you know how much people loved you and cared for you. Your powerful voice and music impacted me and so many other peoples lives and I will never forget it. May you Rest In Peace now.
According to reports, Jong-Hyun's sister received a chilling text message from him before his apparent suicide. Variety reports the message said, "I've had a hard time. Please let me go and say that I did a good job. This is my last word," and The Yonhap Agency translated the text to, "Please let me go. Tell me I did well. Final farewell."
Reports say the police checked on Jong-Hyun's home after his sister called them claiming he was "behaving erratically." As reported by Variety, local news outlets claim Jong-Hyun lit charcoal in his apartment, which resulted in carbon monoxide poisoning. However, these new outlets did not list any sources.
As reported by The Guardian, Jong-Hyun had a promising and successful solo career outside of SHINee. He released three solo albums in the 2015, 2016, and 2017, and released a book called Skeleton Flower to accompany his work as a pop star and musician. Beyond that, Jong-Hyun hosted his own radio show, and had a long list of collaborations with other influential artists.
Despite his success as a solo artist, fans are sharing their support by spreading the message "SHINee is always five," in reference to the five members of the group, including Jong-Hyun.
Many other fans expressed how deeply Jong-Hyun and SHINee's work helped them specifically through tough times, and how the circumstances surrounding his death are all the more upsetting because of it.
More than anything, fans are thanking him for his work and what he did for them.
User Ace Joker shared:
I miss you so much already, Jonghyun. SHINee helped give me happiness over the years. It hurts knowing we'll never be able to see you smile and laugh again. You were too young to die. We lost a talented artist and a wonderful person. Thanks for everything you've given us
Another wrote,
Thank you for everything. You were an amazing artist and person and we are all grateful to have got such a beautiful person like you in this world. You and shinee gave us a lot, shinee are a part of our life thanks
Details regarding a service or memorial have yet to be released.
If you or someone you know is suffering or having suicidal thoughts, head to Suicide Prevention Lifeline to find help.
Check out the entire Gen Why series and other videos on Facebook and the Bustle app across Apple TV, Roku, and Amazon Fire TV.