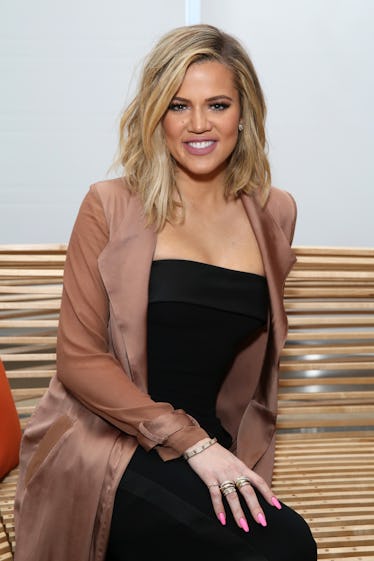 What Khloé Kardashian Just Called Baby True Will Make Your Heart Grow 10 Sizes
Cindy Ord/Getty Images Entertainment/Getty Images
Khloé Kardashian loves being a mom and she's absolutely not ashamed of that fact! The Keeping Up With The Kardashians star has been exceptionally vocal about her love of motherhood since giving birth to her daughter, True. And now she's tweeting incredibly sweet messages for her fans and her daughter to cherish. Actually, Khloé Kardashian's tweet about True Thompson really shows how much having a baby has changed the reality star.
Kardashian welcomed baby True on April 12, 2018 and she's been gushing about her little baby ever since. Here's what Kardashian had to say about the little one on Wednesday, May 30:
I sometimes, still can't believe im a mommy!!! I'm so so thankful for such a blessing!! True is the sweetest ever! I got my bestie for life! Thank you Jesus for my angel 💜
Is that not the sweetest thing ever? Clearly, Kardashian is loving every moment of motherhood and bonding with little True. And I love that she already sees True as her "bestie" even though she's not even two months old. The mother-daughter bond is strong!
Kardashian has been sharing lots of fun posts about her daughter on social media lately. Just a few days ago, Kardashian shared a sweet Instagram photo of herself and True with a caption that read, "Mommy's Little Love."
Here's a peek at the sweet photo:
And earlier in May, Kardashian tweeted about True turning one month old. Apparently, the reality star was in complete disbelief that the whole month had gone by so fast! Here's what she said:
I can't believe my baby will be a month old tomorrow 😩 why does this make me happy and sad all at the same time. Thank you Jesus for my sweet peanut 💜
Aw, time really does fly by! Hopefully, Kardashian is cherishing all these early moments with True. She'll be walking and talking in no time!
Just a few days later, Kardashian shared the first ever video of little True, which caused her fans to go wild. The baby is adorable, so of course, Kardashian wanted to show her off to the world.
Here's the video Kardashian shared of baby True:
While Kardashian has been enjoying motherhood, she's also been grappling with some unpleasant relationship issues. If you've been following the media narrative surrounding Kardashian and her boyfriend Tristan Thompson, you've probably heard that Thompson was involved in a cheating scandal right around the time True was born. At the time, The Daily Mail released a salacious report and accompanying video that implied Thompson was cheating on Kardashian.
Elite Daily reached out to Kardashian and Thompson's reps for comment on those reports, but has not heard back at the time of this publication.
In any case, Kardashian and Thompson have been on the mend ever since True entered their lives. And it's been a rather tough road for both of them.
In a recent report from People magazine, a source close to the couple explained that Kardashian and Thompson aren't always in a good place:
She has good days and bad days with Tristan. They had a very calm relationship before those videos and pictures were released. Now their relationship has changed … Of course it's hard for Khloé to trust Tristan when he goes out of town for games. She knows her family is right when they warned her to not trust him. But she still wants to keep trying to have a great relationship with Tristan again.
It's an unfortunate situation for all involved. But, with any luck, Kardashian and Thompson can work something out for the sake of baby True.