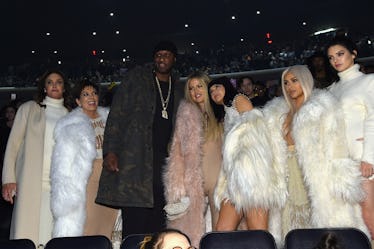 Khloé Kardahian's Sisters Ran Into Lamar Odom & The Details Are So Awkward
Jamie McCarthy/Getty Images Entertainment/Getty Images
Girl's night alert! Kourtney Kardashian, Kendall and Kylie Jenner, and Kylie's BFF Jordyn Woods hit up Mr. Chow in Beverly Hills on Thursday, March 22. Squad goals AF, am I right? Kourt called the outing "a little dinner party" on her Instagram feed, where she posted a mirror selfie of the whole crew looking fierce. But I'm guessing things got a little intense inside the restaurant, because it turns out Khloé Kardashian's sisters and Lamar Odom were all together in there at the same time, and the details, as you can imagine, are pretty freaking awkward!
According to TMZ, Kourtney and Kendall arrived at the restaurant first, with Kylie and Jordyn showing up next at around 8:30 p.m. Then just 15 minutes later, Lamar was spotted walking out the door. DRAMA! So was he there for the early bird special and actually already finished dining? Or did he simply bolt the minute he saw his ex-wife's sisters roll into the joint? What on earth went down inside Mr Chow that night? Did Kourtney go all "I curse the day you were born" on Lamar like Charlotte did with Mr. Big? Did Kylie dropkick him with her killer knee-high boots? And why weren't Keeks and KoKo in the house for the new mama's big night out without Stormi? I'm gonna need some answers, guys!
But first, let's break down the looks here. Because this crew's black, white and light denim wardrobe is totally on point. Did they plan it? Is it all a happy coincidence? Again, I need answers!
Kendall and Kourtney are both rocking light jeans, black tops, and black shoes. Kylie's in a black mini dress with those knee-high boots and a white jacket that I'm totally obsessing over. And Jordyn gave us all the only theme variation of the night, via her white button-down top and khaki pants. The four of them look like a new girl group created by Simon Cowell or something, and I am loving every second of it.
Meanwhile, though Kim was totally MIA, she did show up in the comments section of Kourtney's post to let the girls know how jelly she was of their big night out.
"FOMO AF" she wrote in the comments. And, like, now you know how the rest of us feel watching your life play out every day on social media, Kim! Of course, I'm pretty sure KKW wouldn't have been into the whole run-in with Lamar situation, considering the two of them got into a a little war of words a few months back. What happened was this: Lamar said some shady stuff about Khloé in an interview with BET's Mancave show, and Kim called him out for it on Twitter.
"I understand when it's over, it's over," Lamar said about his marriage. "When she was with her second or third NBA ball player, I could see that."
Watch (at 0:23):
And this was Kim's epic response:
Tell 'em, girl!
Anyway, Khloé is expecting her baby girl any minute now, so I'm sure she DGAF about any of this because becoming a mom for the first time basically trumps everything. Speaking of which, on March 21, Jordyn Woods gave People the inside scoop on how Kylie is adjusting to motherhood.
"It's just a whole new experience," she said. "It's something you never have gone through, but you figure it out as you go. I think that it takes a really strong woman to carry a child."
Same. Oh, and in case you were worried about whether having a kid would affect Kylie and Jordyn's BFF status, you can now put those fears to rest.
"It's definitely the same," Jordyn explained. "If anything, I feel like no matter who you are friends with, no matter what happens, the more you experience together, the more you grow and the more you figure it out. It's just about growing up. We are growing up now and it's cool."