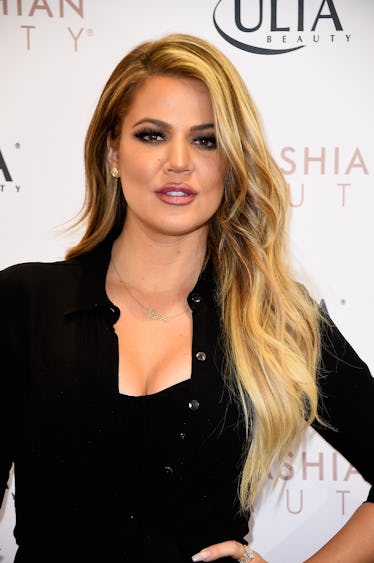 Khloé Kardashian's Relationship With Tristan Thompson Has Reportedly "Changed" & I'm Not Surprised
Frazer Harrison/Getty Images Entertainment/Getty Images
If you've been following celebrity headlines over the past two months, you know that Khloé Kardashian and Tristan Thompson have been having a bit of a rough time. Just days before the two welcomed their baby daughter True in April, news broke that Thompson was allegedly cheating on Kardashian and that definitely rocked the boat. Now, nearly eight weeks on, Khloé Kardashian's relationship with Tristan Thompson has reportedly changed significantly, at least according to a new report.
According to a new report from People magazine, a source close to Kardashian and Thompson revealed that there are ups and downs in the relationship:
She has good days and bad days with Tristan. They had a very calm relationship before those videos and pictures were released. Now their relationship has changed.
Back in April 2018, Thompson was implicated in a cheating scandal that was first reported by The Daily Mail. In the report, The Daily Mail included video of Tristan allegedly getting cozy with an unknown woman.
Elite Daily reached out to Kardashian and Thompson's reps for comment on these reports, but has not heard back at the time of this publication.
News of the scandal made headlines just a few days before Kardashian gave birth to daughter True on April 12.
Given all that Kardashian and Thompson have been through since the scandal broke, it seems only natural that they'd be somewhat at odds, even in spite of their efforts to mend the relationship.
According to People's source, that is exactly the case:
Of course it's hard for Khloé to trust Tristan when he goes out of town for games. She knows her family is right when they warned her to not trust him. But she still wants to keep trying to have a great relationship with Tristan again.
It seems as though Kardashian is just learning how to trust again and that's obviously going to take time. With any luck, she and Thompson are communicating and making sure they're on the same page.
While Kardashian is committed to having a strong relationship with Thompson for the sake of their daughter, there have been reports that her family isn't at all happy with her decision. Even still, Kardashian is 100 percent committed to building as strong a family unit as possible for True..
You can't blame her, really. Kardashian already has such a strong bond with her own family that she likely wants to create that for her own child. She seems to have her mind in the right place, but the responsibility of building a foundation for True shouldn't all fall on Kardashian's shoulders. According to People's source, even Kardashian realizes that:
She thinks it's up to him to prove himself that he can be a great partner and dad. She's definitely more needy and in his face now. This has been causing some conflicts.
Ouch. Sounds like they're going through some really tough times right now, which is sad when you consider how happy a time this should be for them as parents to a new baby. Hopefully, Kardashian and Thompson can enjoy their little True, while still working through their relationship issues.
Another source told People that Kardashian is "not thrilled with Tristan and what he did, but her new little family is more important."
That makes total sense. At least Kardashian is making sure her child comes first, which is really admirable.
The source also explained that Thompson is committed to being a good dad:
Tristan has been so sweet with True, and that makes Khloé so happy.
So sweet. Hopefully baby True can bring Kardashian and Thompson closer together and they can work this all out!