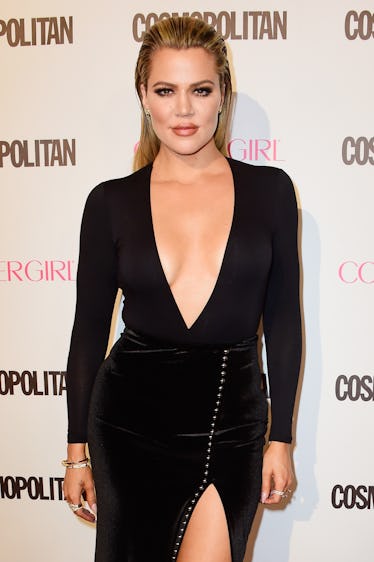 Khloé K Shared An Adorable Photo Of True In Unicorn Ears That'll Make You Smile
Frazer Harrison/Getty Images Entertainment/Getty Images
Khloé Kardashian is once again doing what she does best: gushing over her daughter True and sharing her cuteness with the world. The Keeping Up with the Kardashians star shared a sweet photo of her daughter on Instagram on Wednesday, Oct. 23. And let me tell you, the photo is so adorable that you won't be able to stop smiling. In fact, Khloé Kardashian's photo of True in unicorn ears is so cute that even Ariana Grande is gushing over it.
In the photo, little True is wearing unicorn ears while sitting on a lush carpet in what looks to be her nursery. The 6-month-old is also sporting a pair of diamond stud earrings and a really sweet smile. She looks as happy as can be and Kardashian is clearly proud to show her off.
"I always knew unicorns existed 🦄," Kardashian captioned the photo.
In the comments, celebrities like Ariana Grande, Jessica Alba, and Winnie Harlow commented on how sweet the photo was.
"Omfg," Grande wrote in a comment.
That was followed by Harlow writing, "Meltinggggg," under the photo as well.
And then Alba said what was on everyone's mind: "She's perfect."
So, everyone obviously feels the same way about little True. She's adorable and perfect just the way she is!
Are you ready to see a baby unicorn? Well, here she is:
The photo of True in unicorn ears isn't the only cute photo Kardashian has shared in recent days. Just last week, on Oct. 19, Kardashian shared a photo of herself, baby True, and her mom, Kris Jenner, that showed just how much family means to her.
In her post, Kardashian explained how important it was to have such a good mom growing up and how differently she views Jenner now that she's a mom herself.
"Thank you does not begin to describe the amount of respect, appreciation and LOVE that I have for you, but I do need you to know that you are my hero," Kardashian wrote. "I hope to live up to the mom you have been to us. (Regardless of what Kourt thinks JK lol) seriously, how did WE get so lucky to have you? WE have the cheat codes to mommy-hood."
In addition to thanking her mom for being so awesome, Kardashian also made room in her post to joke around a bit.
"Thank you for being selfless," she wrote before cracking a joke. "You continuously put us before yourself and you never think twice about it. (Except when it comes to paid Instagram posts but I ain't mad at you for gettin that money honey)."
So, mother-daughter ties definitely run strong in the Kardashian-Jenner clan. There's no doubt that Kardashian will share a similar relationship with her daughter, True, when she gets older. In some ways, it seems like Kardashian already enjoys an extra special bond with True even though she's only 6-months-old. And that's such a sweet thing for Kardashian to share with her fans and followers. Being a good mom is clearly important to her and she seems to be doing a great job already!