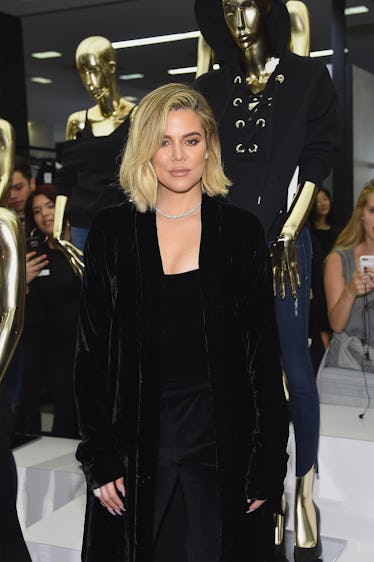 Khloé Kardashian Posted To Her App For The First Time Since Giving Birth
Jamie McCarthy/Getty Images Entertainment/Getty Images
Being part of the Kardashian-Jenner clan has lots of benefits, especially if you're a new mom. With so many moms in the family — there's Kris, Kourtney, Kim, Kylie, and now Khloé — there's a lot to be gained from just hanging around and spending quality family time together. And Khloé Kardashian's first app post since giving birth to baby True pays a sweet tribute to that family bond and to her sisters, who are all superstar moms.
Now, more than ever, Kardashian is relying on her sisters to help her navigate the newest (and probably most exciting) chapter in her life: motherhood. Kardashian gave birth to her first child — a daughter named True — on April 12, and now she's looking to her siblings for guidance, support, and comfort.
Kardashian took to her personal website and app to talk about how her sisters are now her new mentors. In a post she titled, "Why My Sisters Are the Ultimate Mom Mentors," Kardashian gushed about her sisters' mothering skills and explained that having so many moms in her immediate family takes some of the pressure off:
"It's so comforting to know that I have sisters whom I can ask about anything that may come up," Kardashian wrote.
The 33-year-old reality star has been experiencing some ups and downs lately, so it's nice to see that she has a solid support system. For those of you not in-the-know, Kardashian's beau and father to little True, Tristan Thompson, found himself caught up in a cheating scandal just before Kardashian gave birth.
On April 10, The Daily Mail published a report and accompanying video that alleged Thompson was cheating on Kardashian just days prior to giving birth. The video allegedly showed Thompson getting comfortable with a woman who was not Kardashian. Elite Daily has reached out to both Kardashian's and Thompson's teams for comment on the report, but did not heard back by the time of publication.
Scandals aside, Kardashian is seemingly putting all the drama behind her to focus on being the best mom she can be. And sisters Kourtney, Kim, and Kylie are inspiring her every move as a mother:
My sisters are all such phenomenal moms! I can't say exactly what advice or skills I'll be taking from them, but I'm going to remain awe-inspired by how they can handle it all. I hope that comes easily for me.
Sounds like Kardashian is ready to go all-in and follow in her sisters' footsteps, which is great! It's also nice to see her keeping such a positive attitude amid the current news cycle surrounding her relationship.
She's also keeping all options and avenues open as she finds her way in the world as a mom to a young daughter:
Even though I'm not big on taking advice — I don't believe there's only one-way-or-the-highway and we all have to adapt into our own routines … Just by observing them as moms, I've already learned so much.
This is a fantastic attitude to have and demonstrates so clearly how prepared Kardashian was for this new part of her life.
One glaring omission from Kardashian's post is that of Thompson. While the two are said to be reconciling, Kardashian makes no mention of how Thompson will factor into the raising of the newborn.
Here are the facts that we do know, though: Thompson was present at the birth and True will carry his last name. So, is it safe to assume he'll have a role? Probably. And as father of a 16-month-old baby already, he'll probably be a pro at it.
Either way, Kardashian has her hands full and she's lucky to have her whole family by her side.