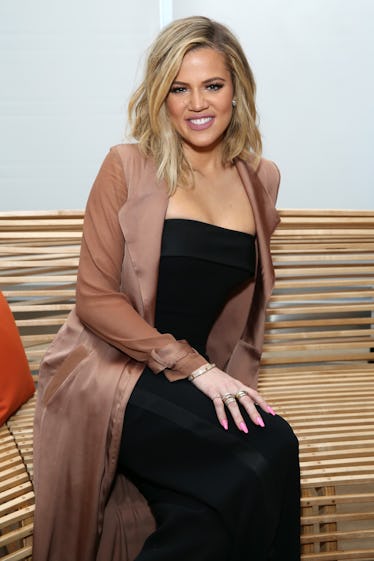 Khloé K Just Shared A Photo Of True Thompson In Huge Sunglasses That Is Unbelievably Cute
Cindy Ord/Getty Images Entertainment/Getty Images
Khloé Kardashian is showing off her daughter True again! And once again, the photo she shared is beyond adorable. Kardashian took to Instagram on Wednesday, Oct. 17 to share a photo of her daughter in a pair of oversized sunglasses. Khloé Kardashian's closeup photo of True Thompson in sunglasses will definitely make your day.
In the photo, all you can really see is True's adorable face obscured by Kardashian's gigantic sunglasses. True, of course, looks supremely happy (as she does in every photo!) and it's just such a sweet moment captured on camera. Kardashian captioned the photo with, "I mean...... 😍." And that's basically how every fan feels about the photo.
In just a few hours time, the photo garnered over 2 million likes and over 21,000 comments. So, Kardashian's fans and followers have a whole lot to say about the photo.
"Oh my! No Words!!!💕💕💕 her own little style!! I'm so over the top happy for you and your new family," one dedicated said of the photo.
Another enthusiastic fan wrote, "Cant handle the cute, she's even doing a bit of duck lips 😍😍😍😍."
And yet another fan said they couldn't decide which photo of True was their favorite because she's such a cute baby! "Omgggg !!! I can't ! Idk what my favorite picture is anymore 🙈😩😍💕 God bless this little angel of yours!!" they wrote.
Needless to say, people are going wild over Kardashian's new photo of True. And for good reason. Have you seen the photo yet? No? Well, have a look for yourself and try not to die from cuteness overload:
Kardashian has been sharing lots of photos of her daughter True as of late. Just two days ago, on Monday, Oct. 15, Kardashian shared some photos of herself and True posing together.
She captioned the photos with, "🎶Good Morning To You! Good Morning To You!🎶."
And just a few weeks before that, on Sept. 27, Kardashian shared a photo of her daughter soaking up the sun and looking adorable as always! She also shared her love for her daughter in the caption. "🎶 I've Got Sunshine On A Cloudy Day. Talking About My Girl 🎶," she wrote.
Not long before sharing the above photo, Kardashian also posted some sweet poolside photos of herself, True, and her mom Kris Jenner. Here's one where they're all pulling a silly face:
"Trying to do our best Cardi B 😝," Kardashian wrote in the photo's caption.
She also shared one of just herself and True, which is really quite sweet.
It seems like Kardashian and her daughter really enjoy being in the water. The new mom is always posting photos of her daughter in or near the water, so maybe True will grow up to be pro swimmer!
Kardashian has also shared some videos of her daughter, like this one from back in May 2018, when True was only a month old:
Judging by all these photos and videos, Kardashian is clearly loving the fact that she's a mom. It's obvious that she's having a lot of fun being True's mom and that the bond they share is very special to them. And it's so sweet that she shares some of that with the world.