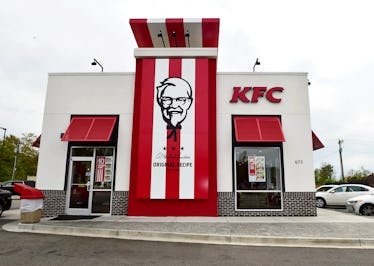 KFC Is Reportedly Working On Vegetarian Fried Chicken, So Everyone Wins
Moses Robinson/Getty Images Entertainment/Getty Images
About six years ago at the ripe (and relatively clueless) age of 18, I realized that I really wasn't about that #MeatLife anymore. So, I decided to go vegetarian — and thus far, it's been relatively smooth sailing. But I do sometimes find myself craving a few of my old favorites, like hot wings, my mom's signature cheese-filled meatballs, and, most importantly, a bucket of KFC's signature fried chicken. If you, too, are missing that deliciousness like absolutely nothing else imaginable, rest assured that KFC UK is working on a vegetarian chicken recipe. Elite Daily reached out to KFC about the vegetarian recipe, but has not heard back by the time of publication.
Maybe you (somehow) can't tell, but I'm looking forward to trying KFC's plant-based version of fried chicken more than anything ever. Like, the anticipation is killing me. According to FoodBeast, the chain has yet to reveal the dirty details on the new dish (seeing as it doesn't even have a set release date yet). But, the eatery did reportedly verify that it will have the same signature blend of 11 spices, like its original fried chicken. TBH, that's all I really care about in the end. I want my veg' fried chicken to be spicy as heck and tastier than ever before. Take your time, KFC.
The test and launch of KFC's plant-based fried chicken will solely be conducted in the UK as of right now, according to FoodBeast. However, maybe there's a chance for it to become successful and break out into other markets. Until then, if you're hanging in the gold old UK, please send some to the United States. I'd like 13 giant buckets of the vegetarian-to-be drumsticks delivered to my bed, and make it snappy. Ugh. I'm sorry, I know I'm getting way too ahead of myself; I just can't help it.
Per FoodBeast, KFC is being super secretive about the recipe, and I'm not liking it one bit. The fact that it's reportedly still in its early developmental stages could be to blame — but I want the dirty details, you know? Nevertheless, the chain is still getting hella stoked for its debut, and quite frankly, so am I.
KFC told FoodBeast,
Development of the recipe is still in its very early stages, and so the options we're exploring in our kitchen are still top secret. Once we've perfected the recipe we aim to test with customers this year, and if all goes well, we hope to launch a new vegetarian option in 2019.
HECK YES, VEG' FRIED CHICKEN FOR DAYS. I might throw a fried chicken dinner party when it comes this way, TBH. Er, actually, never mind. I'm definitely not sharing my bucket with anybody.
The idea of introducing a vegetarian option to KFC's menu actually makes total sense, if you think about it. According to PlantBasedNews, in 2017, six percent of Americans said they considered themselves vegan. So in order to combat the shift in dietary trends, fast food restaurants will really have to step up their game in the plant-based department. Burger King, for example, recently came out with a veggie burger, while Chipotle, on the other hand, began offering sofritas as a meat alternative for burritos, salads, tacos, and more. Fast food is definitely getting in on the #VegMovement — and let me tell you, I'm not mad about it in the slightest.
I know plant-based options are becoming more readily available, but to be completely honest with all of you, I never thought in a million years that KFC would debut a meatless option of its own. Needless to say, I'm so ready to get my hands on a juicy "drumstick" before licking my fingers clean.