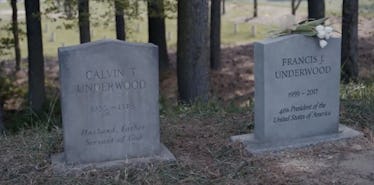 Kevin Spacey Will Be Killed Off 'House Of Cards,' According To This New Trailer
Netflix/YouTube
House of Cards is ushering in a new era for its upcoming sixth season and as promised, Claire Underwood (Robin Wright) is fiercely at its center. Frank Underwood, 46th President of the United States, is no longer alive according to the acclaimed Netflix drama's latest trailer. The clip establishes what audiences already saw coming: Kevin Spacey will be killed of House of Cards. Frank Underwood's tombstone is shown next to his father Calvin's in the teaser released on Sept. 5. But that's not all. His wife has a message for him.
"I'll tell you this though, Francis," she states confidently before looking directly at the camera (a signature wall-breaking device House of Cards has become known for since it premiered.) "When they bury me it won't be in my backyard. And when they pay their respects they'll have to wait in line."
Claire. Means. Business. Robin Wright is stepping into the spotlight as the series comes to a close now that her character has taken on the role of Commander in Chief. House of Cards' sixth and final season will finally be available to stream on Netflix on Nov. 2. It will be a shorter installment than previous seasons at only eight episodes.
House of Cards' fate was put into question last year after star Kevin Spacey was fired in the wake of sexual assault allegations. Production was halted following the news and Netflix ultimately decided to continue without him. "Netflix will not be involved with any further production of House of Cards that includes Kevin Spacey," a Netflix spokesperson declared in a statement. "We will continue to work with MRC during this hiatus time to evaluate our path forward as it relates to the show​." Spacey also released a statement on Twitter when the allegation news broke.
The show ultimately forged ahead with its last season with Robin Wright assuming the lead.
Robin Wright has undoubtedly been one of the most critically acclaimed forces of House of Cards throughout its run. Her compelling portrayal of the ruthlessly ambitious Claire has earned her five Emmy nominations over the years. In the Season 5 closer, the telling last line of the finale belonged to her character. "My turn," Claire boldy declared. Season 6 will focus on her as she steps in as president, and if the trailer is in any indication, potentially take place in the aftermath of Frank's death.
Some of the cast members expected to return for House of Cards' sixth season include Michael Kelly, Patricia Clarkson, Campbell Scott, Constance Zimmer, and Jayne Atkinson. Oscar nominees Greg Kinnear and Diane Lane will be joining the cast as a powerful sister and brother team at the helm of a top industrial conglomerate. Will they see eye to eye with president Claire Underwood now that she's in charge?
"I would personally like it to be the greatest president we've ever had. How she gets there and achieves that is a whole other thing regarding the opera of the show," Wright told The Hollywood Reporter last year when asked what a Claire Underwood presidency might look like.
It's almost time for viewers to hail to the new chief. House of Cards Season 6 will start streaming on Netflix Nov. 2.