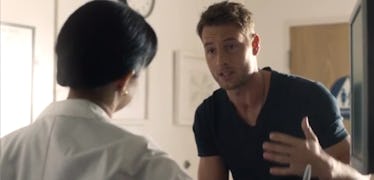 We Finally Learned How Kevin Hurt His Knee On 'This Is Us' & It Explains So Much
NBC
Well, that's one major Pearson family mystery solved. Tuesday night's new episode of This Is Us finally filled fans in on why Kevin's knee injury is such a big deal for him, and it explains so much about his character. Spoiler alert: Don't read on if you haven't watched Season 2 Episode 4 of This Is Us yet. Towards the end of the new episode, Kevin tells Toby that the first time he fractured his knee, it was playing football in high school, and that incident went on to change the course of his whole life.
Last week, we saw Kevin injure his leg while on the set of his action flick with Sylvester Stallone, and he took is surprisingly hard, making us question what was going on. The fact that Kate referred to it as his "bad knee" and that we saw teenage Kevin with a cast on his leg earlier in the season the night that Jack died made it clear to eagle-eyed fans that this was not the first time Kevin has had an issue with his leg, but it was still a mystery what happened to him in the past. Well, now we know — he broke his knee during a high school football game, and it cost him his dream of becoming a professional athlete.
So that's why Kevin is struggling so much after injuring his leg again. He revealed to Toby while trying to rush his recovery process that he was an incredibly promising football player who was being scouted by various colleges before his injury. The injury took football off the table for him.
I had this whole future... and then the knee goes and then bam — it's over. Just like that, gone.
But it was after he got that injury that Kevin discovered acting, initially just as a way to occupy his time, but he then says he discovered he had a true talent for it. The scary thing now is that after the producer on his movie found out about his leg injury, he cut a ton of Kevin's lines. Now, he's afraid that this injury will blow his chance at a future in acting just like the first injury blew his shot at being a football star.
Aaand that leads us to the really uncomfortable and scary storyline that This Is Us keeps hinting at for Kevin this season: pill addiction. Last week, we saw Kevin pop a pain pill to get back on set quickly after breaking his leg, and at the end of this episode, Kevin looks over at the pill bottle again while watching home videos of his glory days in high school football, and is able to walk back onto the set the next day without any sign of an injury. It looks like next week is when it will all come out with Kevin and the pills: the preview for Episode 5 shows Kevin yelling at a pharmacist over the phone to get more painkillers. Buckle up, people.
Of course, addiction and substance abuse run in his family, as we've seen his father, Jack, struggle with alcoholism time and time again in his flashback scenes, so fans have already started speculating that Kevin's leg injury will likely be leading to a pill addiction storyline for Kevin. And it looks like Jack has more to do with Kevin's addiction than just genetics — before Kevin turned to the pill bottle on Tuesday night's episode, he looked back at the face of his dad on the home video, beaming with pride over his high school football heroics. Kevin just wants to make his dad proud... still. And I guess he thinks pills are the way to do it.