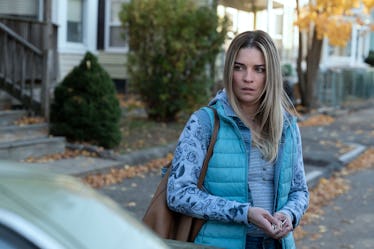 Here's What We Know So Far About Annie Murphy's New Show, 'Kevin Can F**k Himself'
AMC
Annie Murphy is coming off an Emmy-winning turn on Schitt's Creek that transformed her from a little-known Canadian actor to a household name. But after six seasons on a traditional-style sitcom, Murphy's next project is something just a little different. She's starring in a brand-new series on AMC as a sitcom wife named Allison, married to one of the ubiquitous schlubs on TV named Kevin. But these Kevin Can F**k Himself details suggest Murphy's new project is nothing like the sitcoms of yore.
When the series was greenlit back in 2018, the logline described it as "the serio-comic POV of the sadly stereotypical TV sitcom wife who must forever put up with her disproportionally schlubby, goofball husband." Based on intel that's been released since then, it appears the series starts in the traditionally brightly lit multi-cam world of the sitcom in which Allison (Annie Murphy) and Patty (Mary Hollis Inboden) are second fiddles to the stars of the show, Kevin (Eric Petersen) and Neil (Alex Bonifer). But then the show steps outside this world, to the modern-day single-cam, "dark and gritty" reality in which the consequences of how these women are treated play out.
But that's only the beginning of the story. Once they have their revelations, Allison and Patty discover their preconceptions of each other, based on the multi-cam reality, are wrong. In this single-cam world, they band together and become best friends to help each other survive.
Here's everything else we know so far: