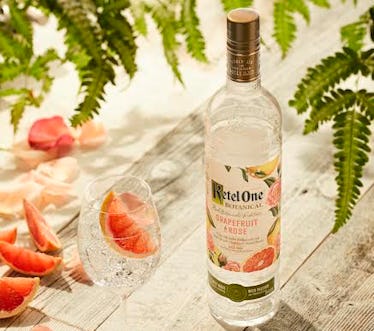 This Grapefruit & Rose Vodka Is Made With Real Flowers, So Try It This Summer
Ketel One
I have a very methodical way of picking out what type of alcohol I want at the liquor store, so if you want to hear some tips from a real pro, listen very closely. Aside from keeping price at the forefront of my mind (because your girl is cheap AF), I mainly value flavoring and bottle aesthetic. I know that last part sounds a little superficial, but trust me, this method almost always works out in my favor. And in case you were curious about my latest boozy findings, I've recently discovered Ketel One's Botanical Vodka flavors. Not only is each flavor straight-up delicious, but the bottles are so freaking gorgeous. I cannot wait to try them all.
I don't know too much about what I'll be doing this summer, but I do know for a fact that my new favorite summertime sippers are going to be Ketel One's Botanical Vodka flavors. Not only are they reasonably priced, with each 750-milliliter bottle going for a mere $24.99, but the three flavors are super unique. They include Cucumber and Mint, Grapefruit and Rose, and Peach and Orange Blossom. According to a press release, each bottle is infused with actual flowers and herbs, so they're bound to be extremely refreshing with a natural and earthy taste. I can totally see them making for the perfect vodka soda, juice cocktail, or beverage on their own. Flowers on the rocks, anyone?
Oh, and as an added plus, each bottle is BEAUTIFUL. Seriously, check them out on the website. The Cucumber and Mint comes in a pretty green bottle, decorated with herbs and cucumbers, the Grapefruit and Rose is decked out in bright orange grapefruits and beautiful pink roses, and finally, the Peach and Orange Blossom is like an orangey daydream, covered in a plethora of fruit, flowers, and vines. These are honestly the ideal summer engagement gifts, BBQ items, or even birthday presents... especially if you're giving them to me for my birthday, of course. You think I'm kidding, but I'm really not.
Since you're probably dying to claim these floral beauties for your own, simply navigate to the "Where To Buy" section on Ketel One's website. First, you'll be required to fill in your zip code, then you'll select which Ketel One flavor you're looking for (which includes all three Botanical flavors, BTW), and finally, you'll specify if you're looking to find it in a bar, a restaurant, or at a liquor store. It's literally that easy, and if you somehow aren't able to find it anywhere near your neighborhood, then I guess that means we'll all have to take a road trip... right? Since these are permanent additions to Ketel One's collection, we have all the time in the world. Sounds like a solid plan to me.
If you get your hands on a bottle of the Grapefruit and Rose flavor and you've already enjoyed it every way imaginable, Ketel One recommends following their very own recipe for a Grapefruit and Rose Spritz. The instructions below are simple to follow, and you'll look extra fancy sipping on it.
First, grab a wine glass.
Fill it with as much ice as you'd like.
Pour 1.5 ounces of Ketel One Botanical Grapefruit & Rose in the glass.
Top it with about three ounces of sparkling water.
Garnish with a grapefruit slice on the rip, or in the drink.
Sit back and sip away.
There are so many different ways to enjoy Ketel One's Botanical flavors, and each of them are perfect for summertime. I'm way too hyped to try each of these, and most importantly, to keep the empty bottles when I'm done. Let me tell you, these are about to make liquor shopping a helluva lot easier for me. I can already feel it.