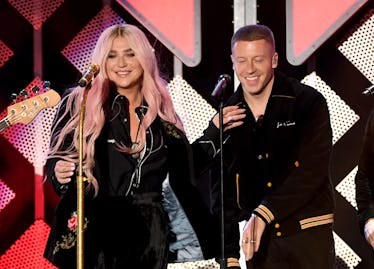 Kesha & Macklemore Basically Had A Bonfire During Their BBMAs Performance & I Have FOMO
Kevin Winter/Getty Images Entertainment/Getty Images
On Sunday, May 20, the biggest names in music gathered at the MGM Grand Garden Arena in Las Vegas for the Billboard Music Awards and boy did they put on a show! With a roster of powerhouse performers like Kelly Clarkson, Camila Cabello, Ariana Grande, John Legend, and Shawn Mendes, it's not exactly a surprise that the entire show was bumpin'. But one moment that left viewers completely and utterly shook was Kesha and Macklemore's 2018 Billboard Music Awards performance of their collab, "Good Old Days."
The song is all about cherishing the moment you're in because, one day, you might look back and realize they were the times of your life, with lyrics like,
I wish somebody would have told me babe / Someday day, these will be the good old days / All the love you won't forget / And all these reckless nights you won't regret / Someday soon, your whole life's gonna change / You'll miss the magic of these good old days
It's a pretty fitting song to sing at the conclusion of this momentous weekend. I mean, on May 19, a regular girl from America married a friggin' prince! Considering Meghan Markle, Duchess of Sussex, could literally be sitting at Nottingham Cottage feasting on tea and crumpets watching Kesha and Macklemore's performance is giving me chills! I mean, these days are good!
Kesha and Macklemore hit the stage, and the set was definitely giving off good-time summer vibes with beautiful lights dangling across the stage over a seriously '70s van and a roaring bonfire (which was honestly a little scary...). It totally looked like the musical pair hat stopped at the BBMAs in the middle of a killer road trip.
Fans are absolutely losing it on Twitter about how amazing Kesha's vocals were and her general level of slayage.
This isn't the first time Kesha and Macklemore paired up for a performance of "Good Old Days." The musical pair linked up for an equally amazing show on The Ellen Show.
Neither Kesha nor Macklemore was up for Billboard awards at the ceremony (boooooo!), but just the fact that Kesha is up there on stage singing about having good times after spending years out of the musical spotlight makes my soul so happy.
Ever since Kesha's power ballad "Praying" dropped in July 2017, fans have speculated that it's about Dr. Luke. It's not a far-fetched theory, with the song boasting seemingly pointed lyrics like:
'Cause you brought the flames and you put me through hell / I had to learn how to fight for myself / And we both know all the truth I could tell / I'll just say this is "I wish you farewell" / I hope you're somewhere prayin', prayin' / I hope your soul is changin', changin' / I hope you find your peace / Falling on your knees, prayin'
Kesha battled it out in court after filing a civil lawsuit against Dr. Luke, who she claims raped and emotionally abused her. Dr. Luke has vigorously denied Kesha's claims that he raped her and counter-sued the singer for defamation.
Kesha was not victorious in court and still remains under Dr. Luke's record label, Kemosabe Records. Elite Daily reached out to Kesha and Dr. Luke's teams regarding their cases but did not hear back by the time of publication.
The fact that Kesha dropped "Praying" — a song that many fans believe is inspired by Dr. Luke's alleged abuse toward her — while still signed to his label was so BOSS, and the song served as an empowering anthem for abuse survivors.
Kesha is simply a badass, and as much as I loved jamming out to "Tik Tok" at crowded, sweaty dorm room parties during my sophomore year of college, I love jamming out to "Good Old Days" even more.
"Good Old Days" makes me think about that time my kindergarten bestie taught me how to draw a T-shirt on my stick figures without lifting my pencil, and how my high school crew and I thought we were the coolest humans when we got to dine at Friendly's on half days without the 'rents. It makes me want to find them all on Facebook, link up, and never lose contact again. And now I'm crying. Thanks, Kesha and Macklemore. Really.