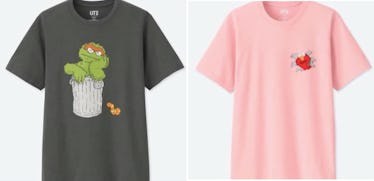 Uniqlo Is Dropping A 'Sesame Street' Collection With KAWS & Me Want It All
When I was younger, I loved to wear graphic T-shirts, especially if they featured my favorite cartoon characters. But now that I'm older, I don't want to look like a preteen headed to school. That's why I'm super excited about the KAWS x Uniqlo's Sesame Street collection news. Don't worry; you won't have to barter your cookies for this new fashion drop.
KAWS, the super famous artist also behind the Peanuts collaboration, is back at it again with a new cartoon-themed line. This time he's pairing up with Japanese fast-fashion retailer Uniqlo to release a Sesame Street themed collaboration. Get ready to stock your closet with some of your favorite Sesame Street characters. The only problem you're going to have is deciding if you want to buy Oscar the Grouch, Ernie, or Elmo merch. You could also go full gusto and buy everything. (Ouch!)
The rollout of this line has been top secret. Initially, KAWS' Instagram followers got a sneak peek with the release of three drawings. At first look, many thought the designs were for an upcoming art installation, but thanks to @onusofficial, KAWS had to confirm there was indeed a line in the works. @onusoffical released pictures of nine T-shirts which were super colorful and very on par with KAWS' work. Some standout graphics include a KAWS Companion hugging Bert, Ernie, and Elmo. There's also a KAWS Companion hiding inside Oscar the Grouch's garbage can with Elmo and Cooking Monster at its side.
There's no official word what will be featured in the collection, but going off of KAWS x Uniqlo past collaborations, shoppers can expect to see graphic T-shirts, totes, slippers, and plush toys. I'm seriously freaking out. Like how cute would a pair of cookie monster slippers look? That's precisely the type of self-care Sunday I imagine in my life.
The launch date is still unknown, but it seems like things are progressing swiftly. On Instagram, KAWS claims the line is a "summer project," so I can presume the line is coming out soon. He's also starting to share tons of behind the scenes looks of what the collection will entail.
If you're unfamiliar with KAWS, I can guarantee that you've seen his work, but can't place the name. Brian Donnelly is an American artist and designer. His career began in the '90s, but to this day people are obsessed with his work. He's known for the repeated use of a cast of figurative characters and motifs that were painted in 2D, but are now featured in 3D. Some of the creations he's designed are original pieces of work, but he has also reworked existing characters such as Mickey Mouse, the Michelin Man, the Smurfs, Snoopy, and SpongeBob SquarePants.
KAWS began his work as a graffiti artist, then moved into subvertising, and now creates some of the most famous sculptures, acrylic paintings on canvas, and screen prints. His new venture is collaborating with more consumerist brands by launching limited-edition toys, clothing, skate decks, and other products. The most famous piece though is the KAWS companion.
The Companion is a character that resembles Mickey Mouse, but has a skull and crossbones for a head and X marks for eyes. Now I know this doesn't sound very kid-friendly, but the design isn't as scary as it seems. From some of the released photos, it looks like the KAWS companion will be featured on the UNIQLO clothes, but fans will also see the Sesame Street characters with the famous X marks as well.
The KAWS x Uniqlo Sesame Street collection is the perfect homage of old and new: It juxtaposes our childhood, while still being fresh and current. The only thing you'll be faced with is deciding how much you want to drop on these cute tees.