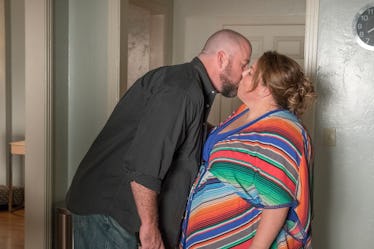 This Week's 'This Is Us' Put Kate & Toby Fans On A Rollercoaster Of Emotions
Ron Batzdorff/NBC
Season 3 of This Is Us hasn't been the smoothest ride for newlyweds Kate and Toby. In order to increase Kate's chances of getting pregnant, Toby ditched his antidepressants without telling her, while Kate underwent a risky IVF surgery. In this week's "Toby," the couple finally reached the happy outcome they've worked towards, but their big news quickly became bittersweet. Kate's second pregnancy on This Is Us is already a whirlwind of emotions, and before their bundle of joy arrives, she and Toby have some mental obstacles to tackle.
After doctors successfully implanted eight eggs during Kate's surgery, the Oct. 23 episode tracked the process of these eight chances of pregnancy whittling down to one vital embryo. By the end of "Toby," Kate received the happy phone call confirming her pregnancy, but finding out wasn't as simple as the first time around. She sat through the doctor's call alone because Toby's reckless decision to toss out his medication had finally caught up with him. Thanks to the episode's scattered hints of Toby's withdrawal symptoms worsening, his trance at the arcade was no surprise, but he snapped out of it just in time to go home and hear about the baby.
When Kate said she was pregnant, Toby completely cracked, sobbing at the sink as Kate tried to figure out what was wrong. Their storyline ended with the same footage we saw as a Season 2 flashforward, showing Kate approaching Toby in bed and discussing a doctor's visit about medication. Mark it down in your sketches of the future This Is Us timeline!
Although the moment was painted as extremely bleak in the Season 2 finale, we now know that it carries a hint of hope because of Kate's pregnancy and her willingness to help Toby feel better. His breakdown from withdrawal seemingly sent Kate into mom mode rather than a state of panic, which is a great sign that the couple will pull through this rough patch feeling stronger than before. Toby's fears about Kate seeing him at his worst came true, but so far, she's handling it like a boss.
However, the fleeting flashbacks of Toby's past revealed that his depression is hereditary and that his mother's bouts with it played a part in his parents' divorce. Even if he does improve enough to celebrate impending parenthood, could Toby start to freak about passing on his struggles with mental health? Kate was so eager about having a piece of Jack that she and Toby probably haven't discussed the more complicated attributes a baby could receive from them. Knowing Kate, Toby's worries could send her on her own path of wondering whether Jack's alcoholism or her emotional eating habits could be issues her child eventually faces. The couple's wish of parenthood is coming true, but now that the stress of getting pregnant is over, it seems that even more anxieties might be in store for them.
In true TV fashion, an onscreen pregnancy announced early enough in the show's yearly run usually culminates with a birth by the season finale. The past two finales of This Is Us have aired in March, which may complicate this typical TV childbirth formula. This means the show could employ its time-bending methods to show the baby's arrival in a creative way, but if things go well, let's hope we'll see the new Pearson-Damon addition by the end of this season. Fingers crossed that the Ka-Toby ship doesn't hit bumpy waters too often in the next few months.
Season 3 of This Is Us continues on Tuesday, Oct. 30, at 9 p.m. ET on NBC.