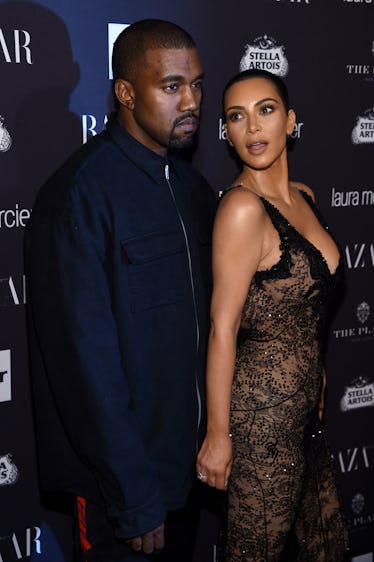 Kim K Just Revealed How Kanye West Really Feels About All Her Sexy Photos
Dimitrios Kambouris/Getty Images Entertainment/Getty Images
Kim Kardashian is the queen of the sexy selfie for the 'Gram. The 38-year-old mother of three confidently posts photos to her Instagram showing how much she's ~feeling herself~ on any given day. But how does Kanye West feel about Kim Kardashian's sexy photos? Apparently, not great — at least sometimes!
In an interview with Ellen DeGeneres airing on Wednesday, Nov. 21, Kim Kardashian opened up about what Kanye West really thinks about her posting sexy photos on Instagram all the time. Surprisingly, it actually bothers him a bit. This conversation came up when DeGeneres put a picture from Kardashian's Instagram on the big screen showing her baking in her underwear. "What were you baking, first of all," DeGeneres said, "and then, why were you wearing this while you were baking?"
"OK, well, I was really baking brownies and birthday cake for my friend. I took a girls' trip to Palm Springs," she said. "That outfit I probably had under sweats, but sometimes you gotta do some things for the 'gram—for Instagram." Ah yes, the classic tradition of doing it for the 'gram. "You know, we do little impromptu photo shoots just for Instagram, but I wasn't walking around baking like that," Kardashian confirmed.
"I see, because you could burn yourself!" DeGeneres quipped. "And you could get in trouble with your husband sometimes over too many photos like that!"
"It's like half and half," Kardashian responded. "Because he always wants me to be me and feel confident, and we're having fun, but it also bothers him." Dun, dun, dunnnnnnn! So, Kanye West doesn't always like it when Kim K posts her sexy selfies. I'm honestly kind of surprised, considering he's seemingly been supportive of her owning her sexual side in public.
"But then you still do it?" DeGeneres asked.
"I go through waves," she replied.
Kardashian continued to say that she tries to create a balance. She'll maintain some privacy for her husband, but then she'll just be really proud of her body (as all people should) and will want to show off her hard work a bit. Kardashian said,
Sometimes I'm like, 'OK, I'll be more conservative on my Instagram.' And sometimes I really have to get something out if I'm feeling good about myself for I've been working out really hard. And then I'll post something and he'll get upset. Then we'll just, you know...it's a cycle.
Soooo, I'm guessing that photo Kim K posted of her wearing a Chanel bikini didn't go over well with Ye. Too bad, Kanye! She was feelin' herself that day!
At another point in the interview, Kardashian revealed that West toys with the idea of quitting public life altogether and being a full-time dad.
"I don't want to make it like it's an announcement, I think he's kind of joking," Kim K said, "But he has, all week, been like, 'You know what, I love just being a dad! It would be so fun to just give up Kanye West and become DadYe full time.'"
"That'll never happen," DeGeneres said, saying what we're all thinking.
You can check out the rest of Kardashian's interview on The Ellen DeGeneres Show here.