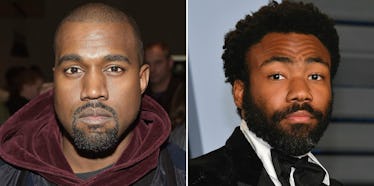 Kanye West Had A Pretty Surprising Reaction To Donald Glover's Trolling 'SNL' Sketch
Grant Lamos IV/Dia Dipasupil/Getty Images
Donald Glover hosted Saturday Night Live on Saturday, May 5, and in addition to being the show's musical guest, his sketch's were as hilarious as you'd expect them to be. One of the best of the night was "A Kanye Place." The digital short trolled Kanye West's tweets from the last couple of weeks and put them in the world of A Quiet Place. And while you think Yeezy might not react to well to the trolling, Kanye West's reaction to Donald Glover's SNL sketch about his tweets was actually pretty chill.
The sketch started out with Donald Glover, Aidy Bryant, Beck Bennett, Keenan Thompson, and Cecily Strong walking barefoot through a field of crops like Emily Blunt and John Krasinski do in A Quiet Place. (The movie is about an alien invasion. The aliens can't see, but their hearing is really good. So if they hear you, you die.) While they're trying to stay alive by staying quiet, Kanye's tweets start rolling in. It's hilarious because of course his tweets about Trump are something everyone wants to talk about. Donald Glover's character is (quietly) losing it over Kanye's tweets and his reaction was literally all of us while we read the tweets in real-time. They're all trying to keep it together, with Keenan Thompson's character giving the most warning, but then Kanye's tweet showing his signed MAGA hat comes and Keenan Thompson is the first to be killed by the aliens when he yells, "OH, COME ON, KANYE."
The short is one of the best parts of Donald Glover's episode of SNL.
Kanye West's reaction to "A Kanye Place" was surprisingly chill. You'd think he'd react to this short by tweeting something like "Donald Glover is oppressing my free thought," but he tweeted something entirely different.
He tweeted the "Kanye Place" video with laughing crying and fire emojis, and that's it...
He was actually... supportive? I guess that means he liked it? This was a best case scenario reaction?
And Kanye didn't stop there. Childish Gambino debuted his new song "This Is America" on SNL on May 5. On Sunday, May 6, he released the official "This Is America" music video, and its powerful message about gun violence and being a black man in the United States had everybody on social media talking. Yes, even Kanye.
He tweeted the video in seemingly a show of support for the song and Childish Gambino.
The video stirred a lot of conversation online, and rightfully so. It's a powerful display of the reality of American life, and fans on Twitter and the media alike spent the day analyzing the video's many parts.
"This Is America" starts off with Gambino singing,
We just wanna party / Party just for you / We just want the money / Money just for you / I don't wanna party / Party just for me / Girl, you got me dancin' (yeah, girl, you got me dancin') / Dance and shake the frame.
Then he raps,
This is America / Don't catch you slippin' up / Don't catch you slippin' up / Look what I'm whippin' up / Look at how I'm livin' now / Police be trippin' now (woo) / Yeah, this is America (woo, ayy) / Guns in my area (word, my area) / I got the strap (ayy, ayy) / I gotta carry 'em.
The tweets about Childish Gambino's "This Is America" music video show how much of an impact the video made in such a short amount of time.
One fan tweeted, "Summed up: The American fabric is selling distractions and superficial livelihoods, while in reality avoiding gross systematic issues that we ignore because it's easier to live a lie than to confront the truth. #ThisIsAmerica Childish Gambino Donald Glover #PoliticsNation." Another said, "The more you watch the #ThisIsAmerica video, the more you realize that there's so much going on in the background and that Donald is just a distraction - and that's the whole point. #StayWoke (don't catch you slippin' now)."
While Kanye West's reaction to "This Is America" wasn't anything analytical like the above tweets, he rarely tweets the music videos of other artists, so it's clear he was impressed by the video. It also might be why his reaction to "A Kanye Place" was more chill than expected. Donald Glover/Childish Gambino did that.