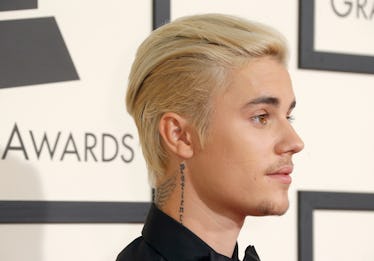 Justin Bieber's Most Meaningful Tattoos Tell The Story Of His Life
Jeff Vespa/WireImage/Getty Images
Justin Bieber knows how to express himself. Whether it's making music, designing his clothing brand DREW House, or coming up with his next tattoo idea, the Biebs is truly a creative mastermind. Justin Bieber's tattoos tell a lot of different stories about his life.
Bieber has been in the spotlight since age 13, so fans have watched his skin go from a blank canvas to a work of art with countless tattoos all over. Bieber has commemorated stages of his life through his ink. He's honored significant people — including ex-girlfriend Selena Gomez — and documented bible verses from head-to-toe. While some of his tattoos are simple reminders, like the owl on his arm that signifies wisdom, others have much deeper meaning.
Bieber got his first tattoo — a seagull inked on his lower stomach — when he was just sixteen years old. He told GQ in February 2016 that it's from a book he read as a kid about "a seagull who wanted to be more than just a seagull."
Over the years, Bieber has tattooed everything from angel wings on his neck to a photograph of his mom on his forearm. These 20 Justin Bieber tattoos really tell the story of his life.