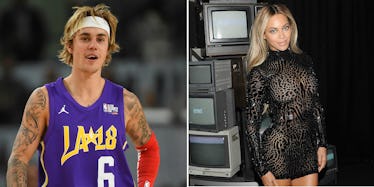 Justin Bieber Posted A Seriously Creepy Photo Of Him & Beyoncé & IDK How To Feel
Jayne Kamin-Oncea/Getty Images Sport/Getty Images, Jamie McCarthy/Getty Images Entertainment/Getty Images
I've never known what's going on with Justin Bieber, but I especially don't know what's going on with Justin Bieber right now. He's sometimes dating Selena Gomez. He's taken a break from music. He's committed to his church. He's posting weird photos of his face photoshopped onto Queen B's body and pretending it's his sister. No one knows what to make of it. Justin Bieber's "Rachel Bieber" photo is really just his own face superimposed on Beyoncé's body, and I guess I'm uncomfortable? Justin, what is going on, bro?
On Wednesday, April 19, the Biebs posted his strange picture on Instagram with the caption, "Y'all need to meet my sister Rachel Bieber."
Sure, I have some questions.
Why the name Rachel? Why this particular photo of Beyoncé? Who made this? How did it get here? Despite my own personal feelings on the whole thing (which are: I don't get it and I don't like it) nearly 4.5 million other Beliebers disagree. In just one day, Bieber racked up almost four and a half million likes on his picture, including a few of his famous celebrity friends. If you scroll through the comments, you'll see Patrick Schwarzenegger commented, "Bruh set me up! Finally be brothers," and Jaden Smith wrote, "she's bad."
I didn't write anything. I just raised my eyebrows.
Someone took the liberty of digging up the original photo of Beyoncé, which apparently came from a launch party for her 2013 album Beyoncé. The editing work done on Justin's version is pretty spot-on to the naked eye. Whoever the artist is, they did a great job blending that hairline.
E! News did some digging and found tweets to Beyoncé from Justin throughout the years, proving this act of devotion might simply be a little bit of fan art. In the past, Bieber has gone so far as to tell Beyoncé to "leave JayZ at home," and to "call him." Of course, some of these tweets are literally nine years old, which means Bieber was just a hopeful tween reaching out to his Queen like the rest of us.
The truth is Bieber has two half-siblings — a little brother named Jaxon (8) and a little sister named Jazmyn (9). One time, Bieber had fans in literal tears of joy when Jazmyn joined him on stage in Toronto help him sing his hit song "Sorry."
The video starts out just like you would expect. Bieber emerges from a trap door in the stage and then dances and sings in a fake rainfall. Around 1:20, a little human appears by his side, though Bieber doesn't see her at first. After being tipped off by one of his backup dancers, Bieber finds his little sis standing in the "rain" and immediately his mood picks up.
I swear to God, she breathed new life into his performance. Tell me if you agree.
(Bonus tip: Fast-forward to minute 2:00 for an embrace that literally made me tear up at work for reasons that I can't understand and probably should talk to my therapist about.)
I've said it before and I'll say it again — I'm never mad at Justin Bieber. I think he's just doing his best, got way too famous way too fast, and now doesn't know what to do with himself except to swoon on Beyoncé in strange ways.
At the end of the day, if he wants Bey to be his sister, he's not alone. I just don't think editing your face onto her body is the way to go about it, bro.
Check out the entire Gen Why series and other videos on Facebook and the Bustle app across Apple TV, Roku, and Amazon Fire TV.