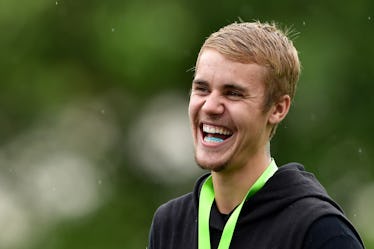 Justin Bieber Will Play Cupid In A New Movie & No, I'm Obviously Not OK Right Now
Stuart Franklin/Getty Images Sport/Getty Images
Justin Bieber is going to be spreading the love in his next big project... literally! The pop star is going to play the mythical God of Love himself in a new movie about Cupid, because who knows more about trials and tribulations of love than Justin Bieber, right? The new movie is animated, so you won't get to actually see the Biebs in the full get-up, but Justin Bieber will be voicing Cupid in the movie based on Greek mythology.
Justin Bieber's long-time friend and manager Scooter Braun announced the still-untitled Cupid movie on Tuesday morning. Braun is producing the movie with Marvel veteran David Maisel under their newly formed film production company Mythos Studios. Along with starring in the movie, Bieber will also executive produce it.
As far as what the Cupid movie will be about, don't expect a cutesy version of a winged baby in diapers. Braun and Maisel teased that the movie is deeply set within ancient Greek mythology, and also suggested that there may be parts for Cupid's mythological parents in the film: Venus, the Goddess of Love and Beauty, and Mars, the God of War. The producers also underlined that Bieber's version of Cupid will have a playful and mischievous personality, and will of course be equipped with the God of Love's iconic bow and arrows, which can cause uncontrollable desire in whomever they strike.
Scooter Braun said that Justin Bieber was instantly pumped about the Cupid movie, and that the pop star seems perfect for the role:
When this project was brought to Justin, he instantly was excited to be a part of it. Fortunately for us, like Cupid, he knows a little bit about love and mischief.
After years of high-profile relationships and releasing countless hit love songs, Justin Bieber certainly does feel like a perfect choice to voice the young, mischievous God of Love in this Cupid movie. Bieber took to Instagram to share his excitement at the casting, and also share a bit of a sneak peek about what his Cupid character may look like in the movie. Check it out below:
The new Cupid movie will mark the first time that Justin Bieber has starred in a film as a character other than himself. The singer has been in big-budget movies before, including two documentaries (2011's Justin Bieber: Never Say Never and 2013's Justin Bieber's Believe) and a part in Zoolander 2, but in each of his film appearances he has portrayed himself. The only time before now that Bieber has appeared in character for an acting job is back in 2010 when he played a serial killer for two episodes of CSI: Crime Scene Investigation.
The untitled Cupid film will also mark Justin Bieber's first time voicing an animated character. If the movie proves successful, then you can bet that Mythos Studios will be all about creating a sequel to bring Bieber back to the part, similar to how Selena Gomez has found a steady stream of voice acting success through the Hotel Transylvania movies.
Since it has only just been announced, there is no release date for Justin Bieber's Cupid movie just yet, but hopefully we will get more updates about the film pretty soon. There is also a definite possibility that Bieber's involvement as both star and executive producer on the film could mean that it will include new music from the Biebs, which would come as welcome news since fans haven't gotten new music from him in about a year.
Be on the lookout for new information about Justin Bieber's animated Cupid movie to pop up soon.