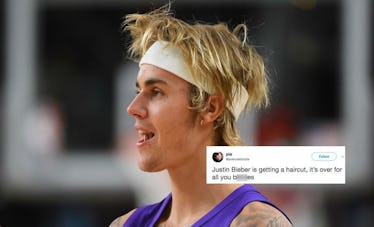 Justin Bieber Finally Cut His Hair, But Fans Have Mixed Emotions For A Funny Reason
Jayne Kamin-Oncea/Getty Images Sport/Getty Images/Twitter
It's over for you b*tches: Justin Bieber cut his hair. He and Hailey Baldwin were seen galavanting around New York City on Aug. 8, and after they both broke down in tears at one point while riding bikes around the city, they stopped in to get Bieber a long-needed haircut. The Biebs has been sporting long, shaggy hair and facial hair for what feels like forever now, and fans were hoping that he'd at least get it cut for his wedding. It looks like Hailey Baldwin finally convinced him to trim the locks and fans are grateful. Don't get me wrong, his hair is still long, it's just been nicely trimmed and looks more ~put together~ now — Hailey Baldwin's impact.
Bieber and Baldwin have been seen out and about New York City a lot ever since getting engaged. (It's where Baldwin's family is located, so it makes sense that they'd be hanging around the Big Apple a lot.) A source recently told People, "They are spending a lot of time with Hailey's family in NYC, and everyone is very excited that they are getting married." They continued, "Justin still seems extremely happy. He is relaxed and very much enjoying his life. He feels very lucky to be with Hailey. He can't wait to call her his wife." Another source said that "Hailey couldn't make him happier," so things really seem to be blissful between the couple right now.
Fans are like, "Yeah, yeah, yeah, I'm happy they're happy, but thank f*cking Jesus Hailey got him to cut his hair." The glow up is real.
Others can't stop laughing that this is barely a haircut at all. (He only cut off, like, an inch.)
I, on the other hand, can't stop laughing at the fact that he looks exactly like a young Stephen Baldwin now. What's that saying about women marrying their dads?
Could he be touching up his hair because his wedding is coming up soon? Sources close to the couple have said that they want a small wedding just among family. That'd be fairly quick to plan if you really want it to be a small ceremony. "As of now, they want a small ceremony with their families," a source told People. "They are not planning a huge, celebrity wedding. They are getting married for love and don't want a flashy wedding."
Now all fans want to know is if Bieber will cut his hair even shorter for the big day, whenever that may be.
The wedding might happen sooner than people may think. Back in July, paparazzi asked Bieber about his new song with DJ Khaled "No Brainer" and then asked what he has planned next following the song's release. The person asking the question meant more "what's next in your career," but Bieber responded, "What's next? Getting married." Soooooo, that sounds like there will be no more music from Justin Bieber until he can officially call himself Hailey Baldwin's husband. Brace yourselves, Bieber stans. His nuptials are coming.