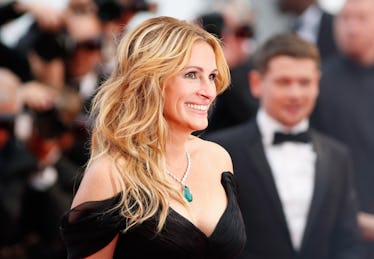 Julia Roberts Just Dyed Her Hair 'Pretty Woman' Red Again, So Consider Me Seduced
Tristan Fewings/Getty Images Entertainment/Getty Images
Celebrities change their hair color like I dither over what I want to eat for dinner. There are some iconic looks out there though, and Julia Roberts' red hair is one of them. She rocked her ginger hair for her role as beloved Vivian in 1990's Pretty Woman, and prepare to be overjoyed, because her latest color shake-up is pretty darn close to that iconic hue.
Since her Pretty Woman days, Roberts has bounced between shades of blonde and brunette, looking mighty fine in every hue, but my favorite look of hers, hands down, is her red hair. To be honest, I've labeled her in my brain as a redhead, even though she usually isn't. Wishful thinking, I guess. But wait, my deep-seated desires have finally come true!
Roberts was recently seen with '90s-inspired red hair on the set of her upcoming film, Ben Is Back. Lucas Hedges plays Robert's son in the film — Manchester By The Sea is one of his most notable roles-to-date — and the actor is a natural ginger. One would guess Roberts' dye job is for familial resemblance, but one can also hope it sticks around for a while after filming wraps. That red hair on award season's red carpets? I die.
Seeing Red
Paparazzi captured Roberts and her hair on the set of Ben is Back in New York City on Dec. 18. Since then, the world, or at least my world, has gone mad for her color. Her contrasting blue puffer really intensified her coppery color.
Pretty Woman Indeed
Above is Roberts in Pretty Woman. She looks almost exactly the same as she does 27 years later, minus the curls, which I wouldn't be opposed to her bringing back as well. Throughout the years, Robert has experimented with various hair colors and manages to always look phenomenal.
Throwback to End All Throwbacks
Other photos of Roberts' from the '90s show off just how ginger-iffic she was back then.
Oh So Beautiful
Roberts was named People's Most Beautiful Woman for the fifth time in April of this year, and the actress actually sported some slightly ginger locks for her portrait.
Auburn All Day
In March 2017, Roberts was subtly hinting at the red to come with her auburn locks. Her blowout is also on fleek.
Blonde Ambition
At the 2014 Academy Awards, Roberts channeled the Oscar statue with her golden hairdo.
Down & Dirty
In October 2011, Roberts had a dirty blonde looking going, with some epic face-framing highlights.
Brunette Babe
One of the actress' darkest hair moments was in 2010 after she had just filmed Eat, Pray, Love.
Roberts looks gorgeous no matter her hair color (and she's had quite a few of them), but if I had to choose a favorite, and I don't have to but I want to, it's definitely the red. Twitter rightfully agrees.
Users were reminiscent of Roberts' Pretty Woman days. One ginger-lover wrote, "my hair goals are julia roberts in pretty woman." Same.
"Furthering my argument that pre-makeover huge curly hair Julia Roberts in Pretty Woman is way hotter than post-makeover smooth blowout Julia Roberts in Pretty Woman," wrote another fan. Like I said, Roberts is beautiful no matter what, but I do wish those curls would make an appearance more often. Now that she has the red hair, it's the perfect opportunity!
"Julia Roberts' early 90's hair is everything I've ever wanted in my life," said one particularly nostalgic tweeter.
Fans are truly excited about Roberts' return to the "red side." Perhaps their fervor will inspire a Pretty Woman sequel? A girl can dream.