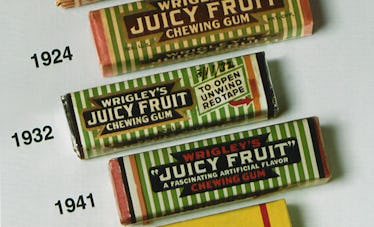 These Surprising Facts About Juicy Fruit Gum Will Give You A Serious Dose Of Nostalgia – EXCLUSIVE
Courtesy of JUICY FRUIT®
Minty gum is great and everything — but sometimes, I prefer the fruity flavor. That's why I've always been a big fan of Juicy Fruit. In my humble opinion, it's the perfect gum for anyone craving something sweet without being too overbearing. Whenever I open a pack of it, I usually take a piece out and throw it right back into my purse. I never actually took the time to think about the history behind the gum... until now, that is. Believe it or not, Juicy Fruit is celebrating its 125th anniversary, and the company released some interesting (and surprising!) facts to Elite Daily about the product that'll totally change the way you chew.
Before I get into the facts about the gum, let's cover the basics. According to Wrigley's, Juicy Fruit was first introduced in 1893. (Yup, this stuff has come a long way, guys.) One of the most obvious changes between then and now is the product's packaging. As you can imagine, the earlier packages of Juicy Fruit looked much different than the packages you know and love today. However, most of them have kept up with the iconic yellow aesthetic that still remains.
For instance, the Juicy Fruit package from 1905 is golden-yellow in color and has bright red writing on it. From there, the packages evolved even more.
How's that for a trip down memory lane?
Now that you know what Juicy Fruit packages have looked like throughout the years, you might appreciate the following facts even more. Each tidbit of Juicy Fruit information was provided by the Juicy Fruit archives to celebrate its anniversary — and I bet you'll be shocked by a few of them.