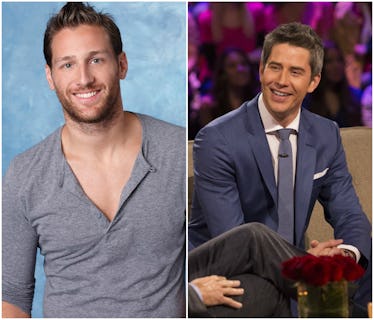 Juan Pablo Lost "The Worst Bachelor Ever" Title To Arie & He Has Something To Say About It
ABC
Juan Pablo Galavis is a name that Bachelor Nation often avoids uttering, but in the past few months, he's received more attention from the franchise than he ever has before since his 2014 Bachelor season. First, his runner-up Clare Crawley once again dealt with a blonde foreign guy telling her "it's OK" on Bachelor Winter Games, and now Bachelor Arie Luyendyk's controversial final decision has the polarizing Juan Pablo back in the spotlight. Recently speaking to Entertainment Tonight, Juan Pablo's quotes about Arie will definitely remind Bachelor Nation why this guy has been out of the public eye the past four years.
While on the red carpet at Sunday's iHeartRadio Music Awards, former professional soccer player Juan Pablo spoke with ET about his feelings on Arie. Although Venezuelan Juan Pablo didn't change his mind about his Final Rose pick, the 36-year-old topped off his lackluster season by choosing not to propose to winner Nikki Ferrell. Instead, the two dated post-show for a little less than a year.
Now married to Venezuelan model Osmariel Villalobos, Juan Pablo admitted that, while he didn't watch Arie's season, he did sympathize for him:
You know, I feel bad for him. Because at the end of the day...you just get to be with that person for [around] 40 hours, so you don't know them that well. If he followed his heart and the other one was the girl, I guess it's right.
Clearly, asking to date the final woman sounds perfectly fine compared to Arie's very public switcheroo from one woman to the other following Bachelor filming. After dumping Becca Kufrin in what aired as completely unedited footage, Arie pursued runner-up Lauren Burnham, leading to the two getting engaged on the live "After the Final Rose."
My readiness to complain to ABC died down once Becca was promptly announced as the next Bachelorette after Arie's cringe-worthy second proposal, but the way things played out seemingly ended Juan Pablo's tenure as the most hated Bachelor. Defending his decision not to propose to Nikki, Juan Pablo told ET:
I always remember what Nikki's dad told me: 'If you're gonna propose to my daughter, [you've got to be] 100 percent sure you're gonna marry her.' And for me, it was very hard because I have a daughter and I was like, 'I think the same way as you do. I hope the guy that proposes to my daughter is gonna marry her, and right now I just need to get to know her better.'
While he initially seemed ready to back up Arie in the interview, Juan Pablo's opinion did hilariously waver when the ET reporter informed him of Arie's rumored break-up with his girlfriend days before he was announced as the new Bachelor in September 2017. The Season 18 Bachelor also wasn't a fan of Arie telling both Becca and Lauren that he loved them.
Those rumors are amazing! He smashed me!... we in Spanish have so many things we say before 'I love you.' We say [I adore you]...I will not say to two people 'I love you' because that's just not right.
When you have the most ill-fitting Bachelor saying that Arie behaved wrongly, you know that the latter's decision was totally uncalled for. Juan Pablo may be happily oblivious to the inner doings of Bachelor Nation, but at least he had the common decency to allow a woman the experience of a true marriage proposal instead of a less genuine one on TV.
After being so indifferent about Arie, Nick Viall, and many of their Bachelor predecessors (Juan Pablo included), I'm so ready for Becca's Bachelorette cast to introduce a man who won't shrivel in the titular position. Fewer "Deanie babies" man children and more men like Peter Kraus, please.
The Bachelorette premieres on Monday, May 28, at 8 p.m. ET on ABC.