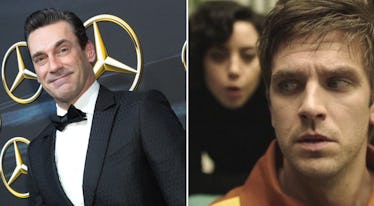 Jon Hamm Had A Sneaky Cameo In The 'Legion' Season 2 Premiere & You Def Missed It
Greg Doherty/Getty Images, FX
Marvel's trippiest series finally returned on Tuesday night, and it brought a surprising celebrity guest star along with it... even though you probably did not notice him. Amidst the mysterious mustachioed women and surprising dance battles in Legion's second season premiere, a few eagle-eyed (or rather, eared) viewers may have heard on a familiar voice. A lot of fans might have missed Jon Hamm's Legion Season 2 cameo, but don't worry, because he is going to continue to be a part of the new season.
Spoiler alert: Don't keep reading if you haven't watched Legion Season 2 Episode 1 "Chapter 9" yet. Somehow, Legion managed to become even more trippy and psychedelic in its second season than it was in its first. One of the new additions is a bunch of cutaway scenes that showrunner Noah Hawley refers to as "sort of educational segments." In the season premiere, we see a handful of these scenes that completely cut away from the main action in order to illustrate a point through metaphor. These include a story about a monk who dreamed he was a butterfly, a story about a man who cut off his own leg after stumbling on the sidewalk, and a segment following two newborn chicks: a healthy-seeming one that represents rational thought and a sludge-covered almost demonic one that represents delusional thought.
These cutaway segments did not only stand out because of how visibly they broke from the main plot, but also because of the familiar voice that narrated them. Yep — that was Jon Hamm, who will serve as narrator throughout the whole second season. Legion creator Noah Hawley said that he had gotten to know Hamm recently, and thought that Mad Men star's voice was distinctive enough to serve as his show's new narrator, comparing the part to Alec Baldwin's narration in The Royal Tenenbaums and Rod Sterling's iconic Twilight Zone voiceover work. Hawley also promised that these segments would continue throughout Season 2 with Hamm as their narrator.
Jon Hamm has worked with Legion star Aubrey Plaza briefly before, cameoing on a couple of episodes in the final season of Parks & Recreation, but his real connection to the FX superhero series is with its creator Noah Hawley. Hamm was recently cast to star in Hawley's upcoming space drama Pale Blue Dot.
The second season of Legion picked up a year after where the first season left off. At the end of Season 1, David Haller (Dan Stevens) realized that a parasitic mutant known as Amahl Farouk or the Shadow King was holed up in his brain and wreaking havoc on his life. Haller managed to expel the Shadow King from his mind with the help of his allies at the mutant sanctuary Summerland, but the evil mutant is able to escape by infecting fellow telepath Oliver Bird (Jemaine Clement) and driving off. The season ended on a cliffhanger, when a mysterious small drone minimized and abducted Haller and flew off.
In the Season 2 premiere, David Haller finally returns to consciousness and sees his Summerland allies, although now they are working under Division III, one of the perceived antagonists of Season 1. They also tell him that a year has passed since he was abducted by that drone, although he insists that he does not remember anything that has happened since then. The head honchos at Division III lay out what sounds like the immediate plotline for the season: the Shadow King's body is still out there somewhere and they have to beat him to finding it. And at the very end of the episode, we see what happened inside that drone: a future Syd (Rachel Keller) traveled back in time to urge David to help the Shadow King find his body instead of stopping the evil mutant.
Yeah... It's a lot. Thankfully, we are going to have Jon Hamm's dulcet tones to break up some of the reality-bending, time-traveling confusion that Season 2 of Legion has in store for us.