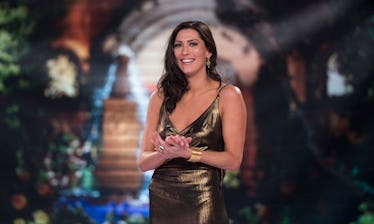 JoJo Fletcher Just Gave Advice To New 'Bachelorette' Becca & You Need To Read It
ABC
Former Bachelorette JoJo Fletcher has some words of reality TV wisdom for Season 14's leading lady, Becca Kufrin. Hey — JoJo's stint as Season 12's Bachelorette proved to be a success. She found love via the series and is still engaged to Jordan Rodgers. So, what's JoJo Fletcher's advice to Bachelorette Becca? It has nothing to do with making sure there's no food in your teeth or confirming the guys are there for the right reasons and everything to do with staying present throughout the chaotic process.
JoJo shared her sage guidance for Becca while speaking with People:
You know what, she had a really tough go. It's her moment now, so I'm excited for her. I would say to really try to just take a moment during this experience, because it's really crazy. I feel like I suffered amnesia from my whole experience and don't remember anything, so to just try to live in the moment if you can.
Bachelor Nation probably isn't too worried about how Becca will handle "the damn thing" as a Bachelorette. She showed off her grace and collective cool throughout the whole Arie debacle, which made America fall in love with her even more. Getting blindsided on national TV? Been there, done that. Narrowing down 25 or more suitors to one potential husband through a series of unrealistic dates and awkward group situations? She's got this. Like JoJo said, it's "her moment."
The Bachelorette's track record of creating lasting romances isn't half bad (OK, just under half of them made it) — JoJo and her fiance Jordan have been together since 2016, and they're just one of six couples still going strong out of 13 seasons. Hopefully Becca will follow in her footsteps and find what she's looking for.
"You know, physical traits... I don't really have a type. I'm all over the board. But personality wise, I want somebody who's honest and loyal. Obviously..." Becca told Ellen DeGeneres in March. I hear that. After the Arie situation, those attributes have got to be must-haves when it comes to Becca's next relationship.
Season 11's Kaitlyn Bristowe, who has her own Bachelorette success story, offered up her two cents on what Becca should know going into the stressful role. "My only advice I could ever give is just to trust yourself through everything because you're on a TV show, so you will have producers telling you things, you will have a lot of outside voices without it being your family or people you trust," she told HollywoodLife last month.
The most recent Bachelorette, Rachel Lindsay, wished Becca well in her blog about that doozy of a Bachelor season finale:
All is right again in Bachelor world and I really do hope Becca gets what she truly deserves. I hope and pray she is emotionally ready for her journey and can open herself up to trust a good man.
And it's not just Bachelorette alums who are rooting for Becca — her former competitors have turned into the ultimate cheerleaders. "i've never met someone like you. you are truly wonderful. you deserve this journey more than anyone i know. that being said, KNOCK EM DEAD THIS SEASON, SWEETIE!!! do our name proud!!," Bekah Martinez from Arie's season captioned an Instagram photo following the announcement that Becca would be the 2018 Bachelorette. Other Season 22 contestants like Seinne Fleming and Kendall Long echoed that sentiment with their own supportive social media shout-outs.
As Becca prepares to let the world in on her rose-filled journey, it's clear that Bachelor Nation and former faces of the franchise have seriously got her back.