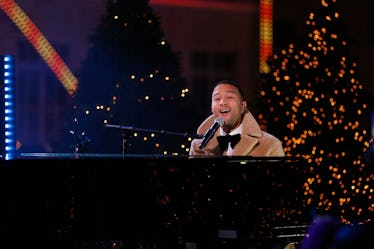 John Legend's Rockefeller Tree Lighting Performance Was Perfect To Kick Off The Holiday
Eric Liebowitz/NBC
It's the most wonderful —er, musical — time of the year, folks! Now that we've stuffed our faces with turkey and stuffing, it's time to deck the halls with holiday cheer, because Christmas is just around the corner. And, with less than a month until my absolute favorite holiday arrives, the world needs to get ready. Fortunately, NBC is one step ahead of us, and has aired its annual Rockefeller Center Tree Lighting ceremony, which included some incredible performances by Diana Ross, Brett Eldredge, and Pentatonix. But it's John Legend's Rockefeller tree lighting performance that will make you feel beyond merry and bright.
Here's how it all went down: On Nov. 28, Today anchors Savannah Guthrie, Hoda Kotb, Al Roker and Craig Melvin co-hosted the 86th annual holiday special, and were there to celebrate the lighting of the 72-ft. tall Norway Spruce tree. According to People, the tree is around 75 years old and is decorated with "more than 50,000 multi-colored LEDs and topped with a Swarovski star designed by architect Daniel Libeskin." And, just a fun fact, that star alone weighs about 900 lbs, putting literally every other tree-topper to shame.
But we're here to talk about a different kind of star. (See what I did there?)
That's right, fam. We're talking about John Legend. Now that we've finally seen John Legend's Rockefeller Center performance in all of its glory, I just have to hand it to the singer, because he totally knocked it out of the park. He performed "What Christmas Means to Me," which is the opening track to his A Legendary Christmas album, and returned to the stage to perform one of my favorite holiday songs of all time, "Have Yourself a Merry Little Christmas."
Here he is crooning while playing the piano:
Here he is singing once more, looking dapper AF in that luxurious winter coat:
And here he is one more time, looking 100% in the holiday spirit:
God bless us, every one!
Naturally, fans were in love with his knockout performance, and took to Twitter to express their sentiments:
A voice smoother than Nutella, indeed.
When it was announced that John Legend would be performing for the airing of the tree lighting ceremony, one fan was concerned that Legend would have to ultimately cancel his Maryland leg of his A Legendary Christmas Tour, as the date coincided with the Rockefeller Center show.
"We booked rooms and rented a whip to go see @johnlegend Wednesday in Maryland and now he is most likely going to cancel to host the tree lighting in NY," one Twitter user wrote, and used the hashtag "#DoubleBooked."
But because we're talking about John Legend here, he went ahead and responded directly to his fan, ensuring that he wouldn't be canceling his tour date for the Rockefeller tree lighting ceremony because he pre-taped it on Thanksgiving Eve. On Saturday, Nov. 24, he wrote,
DC/MD/VA Have no fear I'll be live in the flesh in Maryland on Wednesday. I pre-taped my Rockefeller tree lighting performance on Thanksgiving Eve. See you soon! #ALegendaryChristmas
I truly don't know what we did to deserve John Legend, but I am forever grateful.
Clearly, John Legend is a very, very busy man, which doesn't go unnoticed by his wife, Chrissy Teigen. Naturally, she responded to her husband's tweet in the most epic way possible: by roasting John Legend and his hectic schedule with just a few simple words. The same day Legend tweeted out his explanation, Teigen jokingly tweeted, "'hi' - your kids," because of course she would:
These two are couple goals, y'all.
Merry Christmas to all (of the Teigen-Legend family), and to all a good night.