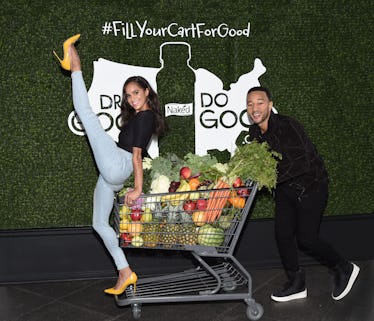 John Legend & Misty Copeland Launched A Dance Challenge To Support An Awesome Cause — EXCLUSIVE
Can you do the floss? How about the Shiggy? If you spend any time on social media these days, you've probably noticed that new dance challenges are constantly popping up on your feed. And while most of these trends have gone viral for the pure sake of having fun and learning some new moves, John Legend and Misty Copeland launched a shopping cart dance challenge to bring awareness to a campaign that's not only important to learn about, but is genuinely changing people's lives for the better.
See, the shopping cart dance is more than just an awkward dance you do at a bar mitzvah or sweet 16. It's part of a larger call to action for an annual campaign called Drink Good Do Good, which, according to a press release, is all about helping people gain access to fresh fruits and vegetables, particularly those who come from food-insecure homes.
"Thirty million Americans are food-insecure," Michel Nischan, founder of Wholesome Wave, a nonprofit organization that's partnered with Naked Juice for the 2018 Drink Good Do Campaign, tells me in an exclusive interview with Elite Daily. "This means they're worrying about where their next meal is going to come from, or if they're going to be able to get enough meals on the table to feed their family. Within that 30 million, it's not uncommon for every member of the family to be eating just one and a half to two meals a day."
What's more, the Drink Good Do Good press release states that 60 percent of Americans don't even know that food insecurity is an issue in their own communities. "These are our neighbors, these are people, maybe on the subway with us, people you may see at work, or on your way to work," John Legend tells Elite Daily in an exclusive interview. "So many Americans don't know about this issue, and Naked wanted to do this campaign so that, in the process of having fun, of drinking something we all love, we can help people who may not have access to the kinds of foods we take for granted all the time."
So here's how the whole thing works: Nora Quartaro, director of communications for North America Nutrition at PepsiCo (which owns Naked Juice), tells me that, for each photo, video, or Boomerang that's posted on Facebook, Instagram, or Twitter between Sept. 24 and Nov. 4 with the shopping cart dance and the hashtag #FillYourCartForGood, Naked Juice will donate $100 — "the monetary equivalent of an entire grocery cart's worth of produce," she explains — to Wholesome Wave, which will then use these donations to help underserved communities gain access to healthier foods via resources like food stamps and SNAP (Supplemental Nutrition Assistance Program) cards.
"Most families who rely on SNAP are working families, like a single parent working a full-time job and a part-time job to make ends meet," Nischan says. "They're shopping at night, during the week, in the morning before work — they need that 24/7 access. So it fits in kind of with the shopping cart dance, in more ways than one."
In fact, Nischan tells me "people are literally doing happy dances" in response to these initiatives. "They're beside themselves that they can actually get the resources to choose the fruits and vegetables they want for their families. If you go to a food pantry, if they have fruits or vegetables at all, you just take whatever they can give you. When you can actually take a cart, stand in the middle of a produce aisle, and look around and say, 'I can literally choose anything here, and I can afford to buy it,' that's empowering."
Nischan and Quartaro couldn't have picked better celebrities to represent the Drink Good Do Good Campaign. Not only do John Legend and Misty Copeland command serious star power, but the two celebs each have their own experiences with growing up in or around food-insecure communities.
"I've talked openly about the fact that there were times when my family was on food stamps during my childhood," Copeland said in a statement for the campaign's press release. "It wasn't about the best and healthiest foods. We ate to survive. After becoming a professional dancer, understanding that my body is my instrument, I finally appreciated the importance of nutrition. So I can relate to the millions of families in this country who don't have access to fresh produce. I also know the impact these foods can have on our bodies, our health and our spirit."
As for Legend, he tells Elite Daily he "grew up around people who were on food stamps, people who were living week to week, day to day sometimes, to get the food they needed." And the thing is, he explains, "if you don't live in that setting, you don't realize that so many people are going through this, and it's easy to ensconce yourself, to shelter yourself from that reality. But we want to bring it to the forefront, and we're happy that Naked is doing this and working with Wholesome Wave to actually do something about the problem instead of just talk about it. We're really putting foods in people's carts and helping them live a healthier life."
It's clear that the Drink Good Do Good campaign means a lot to both Legend and Copeland, but as Legend tells me, you never really know if and when these dance challenges will go viral on the internet. "It's all about having fun and bringing attention to the issue," he says. "With all of these viral things, the greatest thing about it is that it's very democratic, it's open to everyone. You don't have to be a professional dancer. You can be a terrible dancer like me." Side note, John: You are definitely not a terrible dancer.
Regardless of whether or not the dance challenge goes viral, though, Copeland says the campaign and its hashtag are all about starting a conversation. "I think using social media is such a great way to bring [awareness of food insecurity] to so many different types of people in different communities," she tells Elite Daily. "Having grown up with a lot of those experiences myself, it's a great way of using our voice and our platform."
If you want to keep the conversation going, be sure to post a photo of yourself, or even your friends or family, doing the shopping cart dance, along with the hashtag #FillYourCartForGood. Even if you think you'll look a little silly, keep in mind all the families you're supporting with something as simple as a social media post.