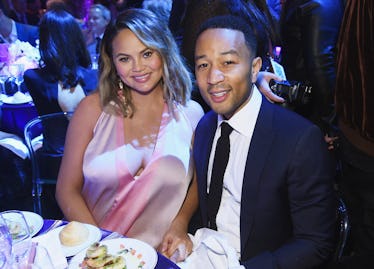 John Legend Revealed How He's Helping Chrissy Teigen Through Her Pregnancy & I'm Swooning
Jamie McCarthy/Getty Images Entertainment/Getty Images
It's no secret that Chrissy Teigen loves to cook. Not only does she have her own cookbook, but she's always sharing her creations with fans on social media. As pretty much anyone can see, she's clearly got the kitchen on lock in her household. So, it may come as a surprise to many that her husband, John Legend, also loves trying his hand at food prep. This is especially true now that Teigen is pregnant. Yep, you read that right. John Legend is cooking for Chrissy Teigen during her pregnancy and it's the sweetest thing.
In an April 24 interview, the singer told People that he's incredibly fond of cooking and enjoys doing it for his wife now that's in her last trimester:
"I've always loved to cook, but I do it more now because she needs to sit down more," Legend said.
What a gentleman!
Legend and Teigen reportedly plan meals based on different countries. So, one night it could be Spain, and the next, it could be Jamaica. Sounds fun! It's also a way for the two to bond, according to Legend.
"It's fun. It's a bonding thing," he told People.
But all that time in the kitchen doesn't necessarily make a perfect cook. And Legend is well aware that he sometimes needs a little assistance from his extraordinary wife. Good thing she's a beast in the kitchen!
She's got the chops to prove it, too. Have you seen her masterpieces? They're all over her Instagram.
Here's her key lime pie with vanilla custard and piña colada key lime with pineapples and coconut:
There's also her homemade pho, which apparently took over 20 hours to make:
And then there's the eclectic meatballs on a split hot dog bun dish:
Obviously, Teigen is incredible when it comes to food, which is no surprise given that she's written a cookbook.
Teigen released her very first cookbook, Cravings: Recipes for All the Food You Want to Eat, back in 2016. Teigen is big on making and celebrating food that's healthy and tastes great. Food also has to be convenient now that she's a mom:
It's been really fun trying to find things that are a little quicker and a little simpler because these days I really appreciate a simple recipe. Obviously, baby Luna's changed us a lot. Some of the things that I barely have the energy for now on a Sunday I used to cook on, like, a Wednesday night. I don't have time to pick the same herbs as I used to.
It looks like being a parent has changed so very many things for this couple. And now, they're expecting their second child, a boy, in the spring of 2018. So exciting!
In addition to preparing for the birth of her baby boy, Teigen is also preparing to release her second cookbook.
In an April 8 tweet, Teigen announced that she finally finished writing it (along with a bunch of other mom/celebrity type things):
I have officially finished my second cookbook and am wrapping up big fall project planning ohhhh it's a joy! now I am planning a two year old's birthday party. I never thought I'd be this mom. I have always been so anti-parties they won't remember. who am I
Ha, she's got such a sense of humor about it all and she really does take all of this in stride. Teigen has quite literally captured the hearts of foodies everywhere, which is great. And it's so awesome that Legend is on hand to help her continue her food-related passions now that she's nearing the end of her pregnancy.