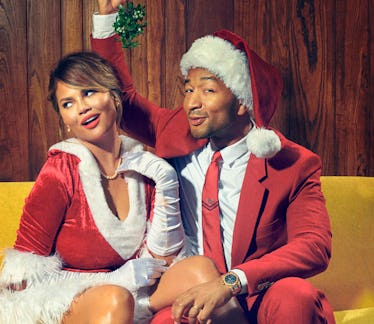 Chrissy Teigen Trolled John Legend All The Way Through Their Hilarious Christmas Special
NBC
Happy holidays, everyone! The internet's favorite family is back at it again with the holiday cuteness, and this time, it's not just on Instagram. John Legend and Chrissy Teigen's Christmas special finally aired on Wednesday, Nov. 28, and it's bound to make your bitter a** feel merry and bright this Christmas season!! "Eh, I don't know if I need to see another Christmas special," you say incorrectly. Because I'll tell you a secret: the whole thing is basically just Chrissy Teigen trolling John Legend for an hour. I can almost hear all of you running to your TV screens to see if you can catch a repeat showing.
The special is set up like a '90s sitcom, which I'm sure we can all be thankful for. But instead of old, campy humor, it's Chrissy Teigen and John Legend humor, and it's everything. The special starts off with a title sequence just like the sitcoms it's imitating — complete with Luna and Miles and a theme song performed by Legend. And there's just a few cameos from some of their celebrity friends. Ever heard of Stevie Wonder? Or maybe Kris Jenner and Kim Kardashian? Retta? Derek Hough? Awkwafina? Keenan Thompson? They're all there!!
Teigen and Legend's families both make appearances as well. I'm sure you well know Teigen's mom, Pepper, by now since she's always on Teigen's Instagram, but Teigen's sister and father make a rare appearance as well, and we stan Papa Teigen's dance moves and adorable grandpa vest!!
One of the ultimate highlights of the special came early on, and of course, it was Kris Jenner.
The mom-ager extraordinaire comes in early on in the special as Teigen is finishing the final preparations for their Christmas party. In a surprising turn of events, Jenner delivers her scripted lines like a damn natural, and it's a genuinely funny moment about making money off of Teigen's "Headband of the Day" Instagram story she did over the summer.
"Yoohoo! It's your fairy god momager!" Jenner says as she makes her big entrance. "I have come by to bring you your party favors!" Then she starts pulling a bunch of headbands out of her bag and reveals she had them officially branded so she can sell them.
"Is that my name with a K?!" Teigen says.
"Everything is better spelled with a K," she jokes.
Then the second Teigen says she likes the idea of the headbands, Jenner pulls out a huge contract. We all know Mama Kris gets 10 percent of her daughters' incomes, but that's not the case for Chrissy Teigen! Oh noooo, Teigen has to give her 45 percent. "Yeah, I didn't give birth to you," Jenner quips. Fair.
Here are just some of the many highlights of the Christmas special:
1. Luna FaceTimes with Keenan Thompson and Queer Eye's Fab Five.
2. Retta sings opera while Derek Hough dances.
3. Teigen trolls Legend about his "small role" in La La Land while they're caroling with Darren Criss, Meghan Trainor, Jane Lynch, and Raphael Saadiq.
4. Teigen dreams she's auditioning for The Voice and convinces all of the judges to turn their chairs around by trolling them.
5. Teigen and Legend have a mac-and-cheese battle where Teigen completely demolishes Legend's dish (though, there was definitely some sabotage involved). Who's the best cook now?!
It's all as amazing as it sounds, but the sweetest part of it all is watching Legend perform the songs from his new Christmas album, A Legendary Christmas, and seeing Teigen bop and sing along to the tracks as she watches him perform. It's truly a delight. But did we expect anything else from them?