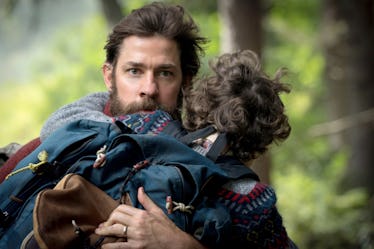 John Krasinski Revealed Details On The 'A Quiet Place' Sequel & I'm Already Shaking
Paramount Pictures
No one would have guessed that a horror film starring Emily Blunt and John Krasinski would be a breakout hit of the year, but A Quiet Place has exceeded everyone's initial expectations. Paramount Pictures CEO Jim Gianopulos has even confirmed that a sequel for the film will officially happen, and while it may be awhile before we have any legit details about the new project, there are still some hints out there. John Krasinski has revealed details on A Quiet Place sequel, and I'm already shaking in my seat.
Krasinski admitted in an interview with Deadline that he never expected moviegoers to love the film as much as they do. He's particularly perplexed about why so many people want to interact with the film's world, which introduces a noise-sensitive society that requires the main characters to live in complete silence. It definitely doesn't sound appealing, and Krasinski and I agree on being a little confused about people's wish to be A Quiet Place characters. He told Deadline:
It's only a short while since the movie came out, but already people are saying, 'We want to live in this world more,' which is really interesting. I'm surprised people aren't like, 'Nah, we know what this is, and we just want to leave it as it is.'
Krasinski, who directed the film, hasn't spilled about whether a sequel would follow the same characters or if he would be directly involved behind the scenes. However, he does have ideas on what another movie could address, saying:
The thing that I loved in the movie, where my mind kept wandering as we were making it, was the question of who was on the other end of those fires, when the father lights the fire and in the distance those other fires light up. How did those people survive? How did that old man survive? In the extreme these characters are going through, there's no room to think about that. They're there, there's an old man who's about to scream, they just have to deal with that. I think it would be interesting to see what's going on elsewhere at this same time.
Returning to the same universe as A Quiet Place but to explore other people's stories would definitely be an interesting concept. What happens in that world if someone is on their own? Do they pair up with other strangers to survive? What if someone is mentally handicapped and doesn't understand the need to be quiet? Essentially, were Blunt and Krasinski's characters in the best shape they could be for their situation, or are there people out there who did better?
If Krasinski doesn't appear on-screen in this sequel, I'm still totally up for any future collaborations between him and real-life wife, Blunt. Contrary to their initial fears, the couple enjoyed working together, with Blunt telling Entertainment Weekly:
We were terrified the night before. You just don't know, you know? How you like to work and how you apply yourself at work and you don't know if those processes are going to crack heads sometimes. Which is not to say it was sunbeams and rainbows the whole time. But I just knew he had my best interests at heart, and I had his, and we realized just how aligned we really are creatively. It was eye-opening. It was so new to us, we hadn't had that before. We discovered different sides to each other that go beyond us being a married couple.
It may be too early to make claims, but given the praise A Quiet Place has received, I wouldn't be surprised if it pulls a Get Out and manages to make it into the Oscar circuit at the end of the year. Who knew it was time for horror to make a breakthrough into awards season?
Until we see how A Quiet Place fares with awards in a few months, I'll be working on my list of sequel theories. You think that John Krasinski would be game to see my suggestions?