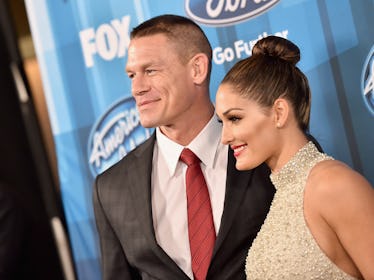 Fans Think John Cena's Cryptic Tweet Is About His Breakup With Nikki Bella
Alberto E. Rodriguez/Getty Images Entertainment/Getty Images
When John Cena and Nikki Bella announced back in April 2018 that they were no longer a couple, fans were understandably upset. Like Cena and Bella themselves, fans have been taking a step back to re-examine what they thought was a solid relationship. But the two pro wrestlers have been adding insult to injury by talking to the press and posting on social media about the breakup. And John Cena's tweet about "lack of forgiveness" is only adding to fan speculation about what happened.
The tweet was posted on Thursday, May 17, just days after Cena started opening up about the relationship. Here's what Cena had to say on Twitter:
Lack of communication is many times what causes people to drift apart, lack of forgiveness is many times what causes people to stay apart.
Whoa, that's actually pretty deep and definitely sounds to me like it could be about his relationship with Bella. While Cena and Bella have yet to give a reason for their breakup, many media outlets have been speculating that the two split because Cena was unable to commit to married life. In particular, Cena wasn't too keen on having kids, which was a dream of Bella's.
Basically, the two wrestlers just weren't on the same page in terms of relationship goals. And that definitely points to a lack of communication. So, when you distill it all like that, Cena's tweet could definitely speak to his reported issues with Bella on some level.
Cena's tweet comes during a time when he and Bella are starting to open up to the media about the disintegration of their relationship. In a recent interview with Hoda Kotb and Kathie Lee Gifford on Today, Cena said he is still trying his best to cope with the breakup:
It's up and it's down. It's been incredibly reflective, which is amazing, but it's very difficult. I had my heart broken out of nowhere … or for me it was out of nowhere. Anyone who has experienced that knows it comes with a series of bad feelings.
It's totally understandable that Cena's still reeling from the split. He also said in the interview that he still loves Bella and that he's willing to have children with her:
I still love Nicole, I would love to marry Nicole, I still would love to have a family with Nicole. It was an unfortunate set of circumstances where our relationship ended. I love her. I want to be with her. I want to make her my wife. I want to be the father of her children. I just want us to work.
What Cena is saying here is the complete opposite of what he was expressing some time ago. In a 2014 appearance on E!'s Total Divas, Cena told Bella he wasn't ready to commit to marriage and children. And when the two announced their split in April, People reported that they couldn't find common ground when it came to making decisions about parenthood.
Bella, on the other hand, really wanted to children. In an April 2017 interview with People, Bella said that she was trying accept that she wouldn't be a mom if she married Cena:
I have come to that decision of being okay with it that I won't be a mom. Now I get to be a bride and a wife, and I'm good with that.
This whole ordeal must be rather heartbreaking and confusing for both Cena and Bella. It certainly is for the fans. But all in all, I hope they can find peace with what's happened. With any luck, they'll remain friends since they both seem to care so much about one another.