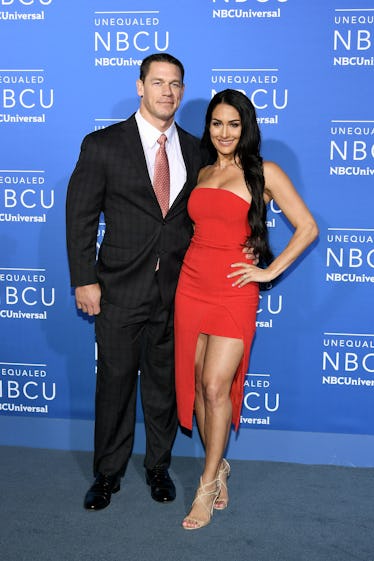 John Cena & Nikki Bella's Wedding Plans Were Reportedly "Too Much" For Him & BRB, Sobbing
Dia Dipasupil/Getty Images Entertainment/Getty Images
Hey, are you in the mood to weep uncontrollably? If you're not, then please direct your attention elsewhere, because this post is kind of, sort of, very, very sad. On April 15, John Cena and Nikki Bella told their fans that they were splitting up, just weeks before the couple were supposed to wed on May 5 in Mexico. It came as a surprise to many fans, especially after watching their proposal on live television during Wrestlemania 33. And now, we're finding out that John Cena and Nikki Bella's wedding plans were reportedly "too much" for him, so I'm going to need a minute here. Elite Daily reached out to Bella and Cena's teams regarding the report but did not hear back by the time of publication.
A source told People that the pressure of planning such a high-profile wedding was simply too much for Cena to handle:
The wedding got bigger than the both of them— originally, it was going to be this small, intimate, family-oriented gathering with just the nearest and dearest. Then it blew up in to a televised special and this whole ornate thing and it was just too much.
Small, non-celebrity weddings can be super stressful, so I can't imagine the amount of chaos and anxiety that would go into planning an event that will be viewed in the public eye. And if it's televised? Bring that tension up another notch, people.
Hello, daily migraines. Welcome.
"You're dealing with a guy who grew up poor, without a dad, and with a history of commitment issues — non-stop wedding publicity and a whole big extravaganza was bound to rattle him, and it did," the source continued. "They got away from what made them work, which is the bond that's just between John and Nicole — not John Cena, WWE Superstar, and Nikki Bella of the Bella Twins. They need to regroup, and they both want to do that."
Is there any chance of these two getting back together? Because my heart actually hurts just thinking about these two parting ways, never to be a couple again.
That's the tricky part. Nobody knows for sure, but an insider told People that the two "still want to be together" and that there's a chance for the two to become official once more.
They're definitely on a path to reconciliation. John is the love of her life, and she's definitely the love of his life, and that doesn't just vanish overnight. At the end of the day, they still want to be together.
With so much back-and-forth, it's making me slightly nervous and on edge, and I just don't know how I'm emotionally handling all of this.
And don't even get me started on thinking about how Bella or Cena is doing, because then I will just sit in a corner and cry for the rest of the day.
We've heard John Cena's reaction about his split from Nikki Bella just a few short weeks ago, which was pretty brutal. On Wednesday, April 25, he spoke with Entertainment Tonight's Carly Steel while promoting his upcoming action movie, Bumblebee, and said that his split from Bella "sucks." He continued, saying, "There's no other way to say [it]. I love Nicole with all my heart, and that's that."
While Nikki Bella hasn't given her reaction to the breakup, I can imagine she's just taking this time to try and decompress because splitting up so publicly must be incredibly difficult. But it hasn't stopped her from her work, as she made her first public appearance since the breakup on Saturday, April 21. She and her twin sister, Brie Bella, hosted a rosé tasting party in partnership with their wine line, Belle Radici, at the Nirvana Food and Wine Festival in Arizona, and Brie Bella told People that her sister is completely "fearless":
She always puts on that brave face. My sister has more strength than any other woman I know, especially Wonder Woman. She's bigger than that.
All of this seriously breaks my heart. If you're looking for me, I'll be somewhere conjuring up ways to try and magically bring these two back together. Suggestions are totally welcome.