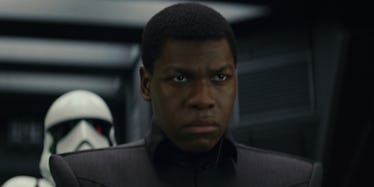 John Boyega Reveals Which 'Star Wars: The Last Jedi' Characters He'd Ship & We're Melting
Lucasfilm
When it comes to the new Star Wars trilogy, the heart of the series has always been Finn (John Boyega) and Rey (Daisy Ridley). There's also Poe (Oscar Issac), but he wasn't originally supposed to live to the end of The Force Awakens. Plus there's Rose, but she only arrived in The Last Jedi. That's why, despite everything, fans still ship Finn and Rey, even as their attentions diverge from each other. But they're not the only ones. This weekend at the AwesomeCon convention in Washington D.C. on the weekend of March 31, John Boyega admitted he ships Finn and Rey.
Talking to moderator Ash Crossan of Entertainment Tonight, Boyega admitted the original twosome was where his heart was at. "Personally, I ship Finn and Rey," he said. But as he sees it, Finn's a man with options when it comes to Star Wars' Episode IX: "Rose wants me, Rey wants me, Poe wants me."
Not that he has any real idea what's happening in Episode IX yet. According to Boyega, he hasn't even seen a script, though he knows he's going to be in it. When a fan asked if he could give away any spoilers, he could merely confirm that the film would start with an opening crawl that begins "A long, long time ago, in a galaxy far, far away...."
But for Rey and Finn shippers, there's good news for the coming film. After being nearly inseparable during The Force Awakens, The Last Jedi saw the two of them apart for the entire second part of the adventure. Episode IX will have them back together.
I haven't read a script for Episode IX. But Daisy did shoot me a text saying, 'Oh my gosh, I just heard from J.J., and we're back together.' That's what I'm really excited about: Finn and Rey back together again.
With such a tiny band of the Resistance left, this may be less about Finn and Rey getting together, or being together, and more a matter of there simply not being enough team left to split up. It's also about the focus of the plot, which Boyega thinks will be brutal.
I think it's going to be an all-out war in this final chapter, so we need to be prepared....
What exactly we need to be prepared for, Boyega didn't elaborate, though fans will probably fill in their own worst case scenarios. Personally, I can't see J.J. Abrams killing off any of the Fab Four of Finn, Rey, Rose, and Poe (or BB-8) but perhaps that's just optimism. But the Star Wars reboot so far hasn't been like The Walking Dead or Game of Thrones, so hope remains. (Though, with the showrunners of the latter coming on board for a new trilogy, that may change in the future.)
One of the other questions that came up is what Boyega hopes to learn before the trilogy is over and if there are any parts that haven't been explored:
One question I've always had as an actor being involved in Star Wars is why Finn decided to defect in the first place. I still don't understand. I would love to know more, to go into his life as a Stormtrooper.
It's a good question. It's clear that Boyega has a real soft spot for that part of his character's upbringing. When asked what his favorite scene to film so far in the series was, he said hands down it was filming with Gwendoline Christie's Captain Phasma, his old commander in The Last Jedi, especially the huge showdown fight scene.
As for what's coming up for him next, Boyega was cagey, but he did say if there was a call for a new Star Wars Christmas special, he was all in. Considering that this will be the first holiday season without a Star Wars film (Solo comes out on Memorial Day), perhaps Lucasfilm will go for it?
Star Wars: The As Yet Untitled Episode IX begins filming this June, and is slated for release Dec. 20, 2019.